Cosmetic Dentistry – Midland, TX
Enhance Your Appearance with a Flawless Smile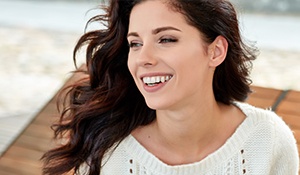 Do you feel frustrated and self-conscious when you see your smile in the bathroom mirror? You're certainly not alone – studies show over one-third of American adults are currently unhappy with the way their teeth look. While oral health is paramount to the dentists at Boyles General Dentistry & Implant Center, we also want to help our patients achieve the aesthetic value that they want through our work. That's why Dr. Stephen Boyles offers a variety of services for cosmetic dentistry in Midland, TX that can elevate your enthusiasm for life! Contact us today if you'd like to schedule a consultation here in Midland, TX.
Porcelain Veneers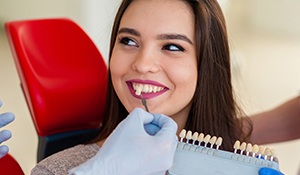 Many patients become overwhelmed by the number of cosmetic flaws in their smile that they'd like to correct. Instead of undergoing multiple treatments and appointments, you can simplify your makeover plan down to a simple solution – porcelain veneers. Veneers are restorations crafted from high-quality dental porcelain, and they're designed to be extremely thin. Why? Because our dentists will be able to place them over the front surfaces of requested teeth, wholly hiding their appearance from view behind a refreshed, imperfection-free replacement.
Learn More About Porcelain Veneers
Metal-Free Dental Restorations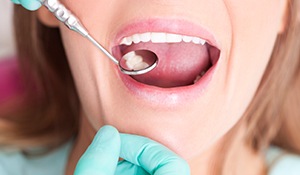 When a natural tooth is injured, weakened, or otherwise imperfect, restorative care may become necessary. Unfortunately, many patients put off visiting the dentist's office for this type of treatment because they're worried about receiving a dark-colored addition to their natural, confident smile. Thankfully, our dentists have a solution – metal-free dental restorations! Crafted from high-quality dental ceramics, these crowns, inlays, onlays, and bridges are the perfect blend of durability and aesthetics. Better yet, their biocompatible nature is very comfortable within the mouth.
Cosmetic Dental Bonding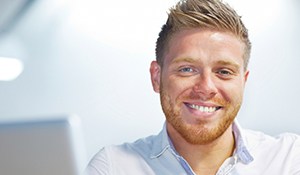 If a patient needs to correct a relatively minor dental flaw, such as a small chip in the enamel or a stained spot, direct cosmetic tooth bonding is the fastest way to do so. In most cases, this procedure will only take a single appointment at Boyles General Dentistry & Implant Center. One of our dentists will apply tooth-colored composite resin (the same material we use for fillings) to the requested area and then carefully sculpt it into an addition that blends right in. Direct bonding may not be as permanent as veneers, but patients can still expect to enjoy the improvements for several years as long as they take the time to maintain them.
Teeth Whitening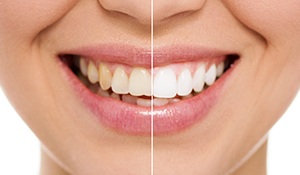 Over time, teeth are likely to become discolored, stained, or simply lackluster in appearance. If your white enamel is in need of refreshing, talk to our team about undergoing professional teeth whitening here in Midland. We offer ZOOM!® products both here in-office and in the form of take-home kits. If you are interested in lightning-fast results, our in-office procedure only takes a single appointment and can dramatically brighten your smile by six shades or more. Alternatively, take-home kits can be used on a more flexible schedule and from the comfort of home. It will take patients a few weeks of consistent use to achieve the same, beautiful improvements.
Learn More About Teeth Whitening
Gum Recontouring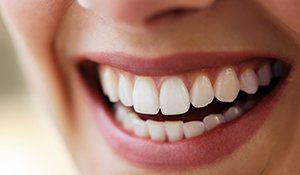 When asked to describe your smile, do the words "short" and "gummy" come to mind? Unfortunately, an excessive and/or uneven amount of gum tissue can reduce the appearance of even the most attractive teeth. Our dentists offer aesthetic gum recontouring as an effective method for correcting the issue and helping your self-confidence flourish! They will precisely eliminate tissue structure in order to create a much more symmetrical look and also reveal any unnecessarily hidden dental structure.
Orthodontic Referrals
Although our team has the training and expertise to handle most cosmetic cases right here in our Midland office, we aren't specialists in every facet of dentistry. There is one area of this field that requires us to refer our patients to another trusted professional. We send our patients in need of orthodontic care to Phillips Orthodontic , where Dr. Phillips makes sure their bite and teeth are properly aligned for a healthier, straighter, more beautiful smile.