Dental Implants — Midland, TX
Recreate Your Smile from the Roots Up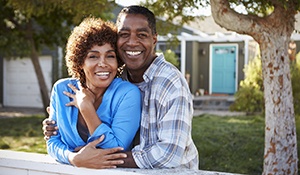 Your tooth is composed of two essential components. We're all familiar with the white crown that makes up your smile, which is the part that most reconstructive services rebuild following tooth loss. However, there's also something important hidden beneath the gumline – the root. Without a functioning tooth root in place, the jawbone loses vital stimulation and can begin to deteriorate, which tends to cause a sunken, aged appearance in the facial features. As if that weren't enough, these restorations are not nearly as strong, comfortable, or long-lasting as natural teeth that are held in place by roots.
At Boyles General Dentistry & Implant Center, we want to introduce you to a truly revolutionary service that will faithfully recreate every part of your missing tooth with outstanding seamlessness – dental implants in Midland, TX. Dr. Stephen Boyles has undergone advanced training in implantology, and he will be able to carry out every step of treatment right here in Midland, TX for optimal success. Please contact us today if are struggling with tooth loss and would like to explore your options.
Why Choose Boyles General Dentistry & Implant Center For Dental Implants?
Dental Implant Placement & Restoration Performed In-Office
Advanced Dental Technology for Comfortable Treatment & Precise Results
Permanently Replace Any Number Of Missing Teeth
What Are Dental Implants?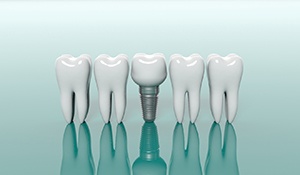 Dental implants are comprised of three main parts: an implant post, an abutment, and a final restoration. The small, screw-shaped implant post is inserted directly into the jawbone to replace the roots of the missing tooth. Dental implants are generally constructed from a biocompatible material called titanium, which allows it to fuse with natural bone and gum tissue to essentially become part of your jaw. Not only does this provide a reliable and strong foundation for the replacement tooth, but it stimulates blood flow in the jawbone to keep it strong and healthy, just like a natural tooth. Depending on how many teeth you're missing, an abutment is used to secure a crown, bridge, or denture to one or more dental implants. Replacing teeth from the roots up gives you a smile that looks, feels, and functions just like natural, which is why dental implants are widely considered to be the gold standard of tooth replacement.
4 Step Dental Implant Process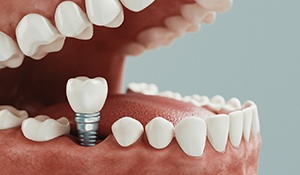 Out of the many treatments available in dentistry, dental implants are among the most complex. However, here at Boyles General Dentistry & Implant Center, we specialize in this treatment and handle every step of the process. In other words, you don't have to worry about seeing specialists in a strange office; you can continue to enjoy outstanding service from a team you already trust. Getting implants consists of four basic steps: consultation, placement osseointegration, and restoration.
Initial Dental Implant Consultation
Before we do anything else, we first need to meet with you for a consultation. This appointment is important because it allows us to determine if you're a good candidate for this treatment and plan the procedure carefully for optimal success. We'll ask questions about your medical history and any medications you're taking, and we'll take highly detailed images of your oral cavity with our CT cone beam scanner. With all this information, we can move forward with dental implants with complete confidence.
Dental Implant Surgery
Once we've completed a consultation and confirmed that dental implants are the right choice for the patient's circumstances, we can then perform the surgical placement of the implant(s) into the jawbone. By doing this, the implant will effectively take the place of the root, stimulating the tissue and creating a strong foundation. Dr. Boyles will personally perform this procedure, using modern technology, including surgically guided placement when needed, to ensure the most precise and successful results possible.
Dental Implant Osseointegration & Abutment
After the implant or implants are seated in place, you will need to undergo a period of healing. During this time, the natural bone tissue bonds with the biocompatible posts. This process, called osseointegration, usually takes between three and six months to complete. When we're certain the posts are secure, we'll then make small incisions in the gum tissue to insert the abutment pieces, which connect the posts to the restoration.
Delivery of Dental Restoration(s)
After a couple of weeks, the gum tissue should be fully healed and ready for us to take impressions for the restoration. The dental lab will fabricate your custom restoration to look exactly like real teeth, so no one will be able to tell you have replacements. When they are ready, you'll return to our office to have your prosthetic teeth attached to the implants and complete your brand-new, lifelike smile.
Benefits of Dental Implants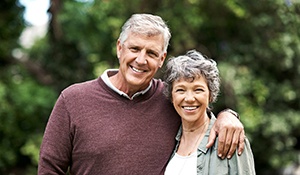 When you lose even one tooth, your jawbone deteriorates because it is no longer stimulated by the root. This makes your remaining teeth lose support. Over time, this can lead to alignment issues and an increased risk of tooth decay, gum disease, and additional tooth loss. Dental implants are the only solution to stop these complications.
Additionally, dental implants offer a wide variety of other important benefits that you simply can't get with other tooth replacement options, such as:
Over a 95% success rate.
Looks and feels natural.
Does not alter healthy teeth.
Preserves your jawbone's density.
Stops dental drift.
Supports your facial structures.
Cost-effective.
Long-term solution.
Who Dental Implants Can Help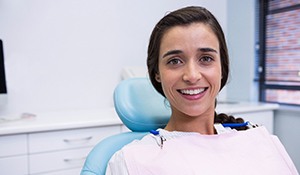 Dental implants are an excellent choice for any healthy adult suffering from tooth loss. Whether you're missing one tooth, several teeth, or an entire arch, we can create a treatment plan to help you regain a complete, confident smile. Once we've confirmed that you're a good candidate for dental implants, we will help you choose the restoration that's best for you depending on how many teeth you're missing:
Missing 1 Tooth
If only one tooth needs to be replaced, a customized, all-porcelain dental crown atop a single dental implant post is ideal because it will not negatively interfere with nearby healthy teeth.
Missing Multiple Teeth
Alternatively, if the patient has two to four missing teeth that appear in a row, an implant-retained bridge can work wonders with replenishing the structure. Instead of supporting each tooth with one implant, the entire restoration can be successfully placed with two implants on either side of the gap that serve as "anchors."
Missing All Teeth
If a patient's tooth loss is more significant than the above examples, implant dentures can be used to replicate an entire arch of the smile all at once. Instead of staying in place through natural suction and/or connections to nearby teeth, these customized dentures are anchored to a small number of dental implants that have been placed in strategic positions. The result is cost-effective, high in quality, and wonderfully lifelike.
There are two major types of implant dentures. If the patient wants their new prosthetic to be as identical to natural teeth as possible, a hybrid denture is the right choice. Our dentists will fix the denture in place permanently so that it can only be removed by us for regular maintenance. Alternatively, for patients who have used traditional dentures for many years who may not want to give up their prosthetic's removable nature or have extensive jawbone loss, we may recommend overdentures. These unique restorations allow you to reap the benefits of implants while having less jawbone density and still maintaining those comforting, traditional qualities.
Learn More About Implant Dentures
Dental Implant Technology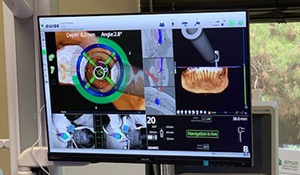 Implant placement is one of the most complex surgical procedures in dentistry. Our team is dedicated to giving patients the best results possible and keeping risks at an absolute minimum. To ensure precision during dental implant surgery, we use computer-guided placement technology, which significantly reduces the chances of complications or errors. Although our dentists proudly have a steady hand and years of advanced training and experience, several studies have found that this technology improves implant placement, so we have integrated it into our practice to benefit our patients.
Dental Implants FAQs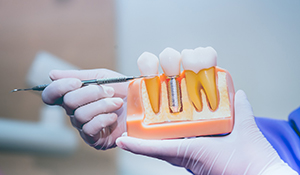 With one of the most complex treatments in dentistry, it's normal to have questions about dental implants. Although we welcome any inquiries during your consultation, we've tried to answer some common questions here. Please read our responses below, and feel free to bring any clarifying questions with you to your appointment. Dr. Boyles can guide you through the process, explain everything clearly, and get you on your way toward a complete smile again!
How Long Do Implants Last?
The lifespan of implants can increase or decrease based on how well you take care of them. When properly maintained, implants can last for 30 years or longer! Although your implants can't get cavities, you need to prevent a gum infection that could put your restored smile at risk. Fortunately, keeping your implants in excellent condition is fairly simple—you care for them as you would normal teeth with daily brushing and flossing and regular dental visits. For added protection, you should drink plenty of water and limit your intake of sugar and carbohydrates.
Does Getting Dental Implants Hurt?
During the implant placement and abutment procedures, we will perform minor surgery, but your mouth will be completely numb for these treatments. As a result, you will not feel pain until after the anesthetic wears off. At that point, you may experience some discomfort as you heal. We recommend taking over-the-counter pain reliever and applying a cold compress to your face to control any potential swelling. Also, you should take it easy for a couple of days to allow your body to recover.
How Long Does Implant Treatment Take?
Overall, the entire process can take up to a year to complete. However, your timeline will be determined by several factors, including whether you require preliminary work like gum disease therapy or tooth extraction. Your recovery time will also depend on how quickly you heal and your bone tissue envelopes the implant. During your initial consultation, we can provide an estimated timeline for your implant treatment, giving you a clearer idea of what to expect moving forward.
Am I a Good Candidate for Dental Implants?
Before we begin treatment, we need to make sure you qualify for implants. Otherwise, it'll be a waste of everyone's time, money, and effort! To be a good candidate, you must be in good overall health, meaning if you have diabetes, for instance, it is under control. You also need to have enough jawbone strength to sustain the implants and have a healthy, infection-free mouth. When you come in for your consultation, we will check for all these requirements, ensuring that your implants are successful. Keep in mind that even if you don't qualify immediately for implants, we'll work with you to get into a better position for them.