Emergency Dentist – Midland, TX
Get Your Healthy, Pain-Free Smile Back Fast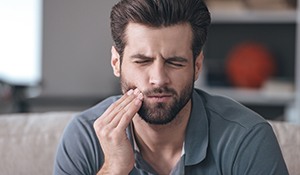 When a dental emergency occurs, the first thing you may think to do is panic. It's common to become frantic and wonder, "What do I do next?" But before you take steps that could actually make the situation worse, start by taking a deep breath and allowing your emergency dentist in Midland to take care of your needs. By calling your emrgency dentist in Midland, TX at Boyles General Dentistry & Implant Center, you can trust that our team will walk you through the steps you should take at home, all while working to schedule an appointment for you to see Dr. Boyles or Dr. Etheredge as soon as possible. Contact us today to schedule an emergency appointment here in Midland, TX.
What Counts as a Dental Emergency?
Of course, you may not actually know whether your particular situation needs immediate care or not. We consider the following circumstances true emergencies, and Dr. Boyles and Dr. Etheredge have the advanced skills needed to assist you with them:
Broken/fractured tooth
Partially dislodged tooth
Fully knocked-out tooth
Severe toothache
Object stuck between teeth
Significant oral bleeding
Jaw injury
Lip injury
Lost or damaged restoration (crown, filling, etc)
How Can I Prevent Dental Emergencies?
While not all dental emergencies are entirely preventable, there are a few ways you can better protect your teeth and gums, including:
Maintain a good oral hygiene routine by brushing twice a day for two minutes using fluoride toothpaste and flossing at least once a day. This will ensure decay and bacteria are effectively removed from your smile.
Avoid consuming too much sugar or starch and stick to more nutrient-rich, healthy foods. Sugars and starches can cause bacteria to build and lead to tooth decay and gum disease over time.
Talk to your dentist about an oral appliance to wear at night if you are prone to teeth grinding (bruxism). This will protect your teeth and prevent excessive wear and tear as well as potential jaw pain.
Keep your regularly scheduled dental checkups and cleanings at our Midland dental office. You will need to see us every six months in order to ensure no problems are developing and remove plaque and tartar build up from around your teeth and gums.
Never use your teeth as tools. Opt for scissors or another appropriate tool to open packages and containers. Your teeth can become damaged otherwise.
Frequently Asked Questions about Emergency Dentistry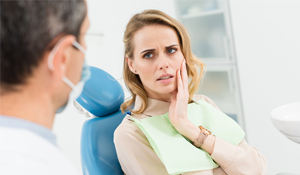 Dental emergencies can take you by surprise and have your mind rushing with adrenaline, and you may have tons of questions about what you should do. At Boyles General Dentistry, we want to help put your mind at ease during this stressful time by answering some of the most common questions about our emergency services. If you have a dental emergency or any other questions that we don't mention below, we invite you to give our dental office a call.
Does keeping a knocked-out tooth in milk really help?
Yes, it does. When a tooth gets knocked out completely, it's important to act quickly to improve your chances of successful re-implantation. If you are unable to reposition the tooth on your own, you need to make sure the root stays moist and uncontaminated. You can store the tooth in between your cheek and gums, or you can submerge it in a container of milk. This liquid has proteins that maintain a safe acid-to-alkaline ratio and sugars that help cells to continue growing. These can temporarily keep the tooth viable until you get to our dental office for emergency treatment.
What can I take to ease my dental pain?
If you have a toothache or some other sort of dental pain, you can take over-the-counter pain medication. However, do not place aspirin directly on the tooth or gums because it can cause damage to the soft tissue. Instead, take ibuprofen or another anti-inflammatory pain reliever according to the directions. You can also use a cold compress to reduce any swelling and soothe discomfort. When you come in for treatment, we can address the source of the problem and offer sedation to help you feel relaxed and at ease.
What should I do if I have a broken or cracked tooth?
Do your best to gather up the pieces of the tooth and bring them to your appointment with us. Keep the area clean by rinsing your mouth with warm water and use a cold compress to minimize any swelling. If your remaining tooth has a sharp edge or point, you can put dental wax or chewing gum on it to prevent cuts to your lips or cheeks. We will do our best to salvage your tooth, but in some cases, the damage may be too extensive to fix, meaning that we may need to extract the tooth. If this happens, our team can offer several replacement options, including dental implants, to get your oral health and appearance back.
Should I go to the ER when I have a dental emergency?
Most of the time, when you experience a dental emergency, your first phone call should be to our Midland dental office. We'll do everything we can to see you as soon as possible in our schedule. Although an emergency room is open 24 hours a day 7 days a week, medical doctors are often not equipped or trained to handle dental problems as efficiently as our dentists are. As a result, you may be waiting for hours, only to be referred elsewhere for treatment, wasting precious time and money. On the other hand, there are situations where a visit to the ER is the best course of action. If, for example, you have a broken jawbone or bleeding that lasts longer than 10 minutes, you should definitely head to the ER before seeking dental treatment.
How much will treating my dental emergency cost?
Each dental emergency is different. Even if two patients both experience a toothache, it could affect another tooth, or one patient may have more severe decay than the other. As a result, the treatment and the cost will vary on a case by case basis. When you come into our Midland dental office, our team can provide a quote for the treatment we recommend and work with you to make your dental costs fit within your budget.