All-on-X Implants – Midland, TX
Flexibility to Secure Your Replacement Teeth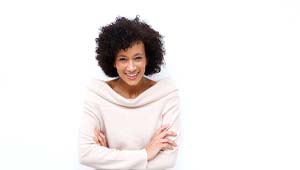 If you are missing all your natural teeth, the thought of replacing them can feel overwhelming at first. The gold standard for replacement is dental implants in Midland, but perhaps you think you'd need an implant for each one. Fortunately, the truth is that you may be eligible for a revolutionary implant treatment: All-on-X. This implant option gives you to ability to regain a strong smile without having to replace individual teeth with a separate implant. To learn more about All-on-X implants, read the content below or you can contact our Midland office and schedule a consultation.
How Do All-On-X Implants Work?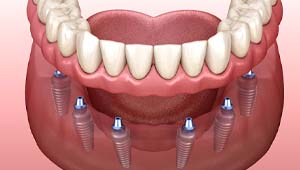 Instead of attaching one dental crown to one dental implant, All-on-X utilizes only a handful of implants to secure an entire arch of prosthetic teeth. Most of the time, a full denture can be attached to four implants, but the exact number of implants will vary from case to case. Unlike single implants, the All-on-X implant posts are surgically inserted into the jawbone in a way that the replacement teeth can be immediately attached and function basically right away. The posts are strategically positioned so that fewer implants are necessary to hold the restoration in place.
Am I a Candidate for All-On-X Implants?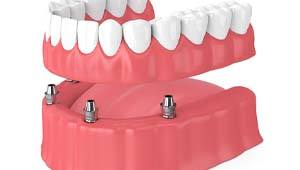 By design, All-on-X implants are intended for patients who have no natural teeth left in the arch. In many cases, those who qualify for traditional implant dentures may be good candidates for All-on-X treatment, meaning that the patient must be in good oral health. However, this option is particularly beneficial for patients who have suffered significant density loss of the jawbone. Instead of having to go through a bone graft first, which adds several months to the treatment plan, they may undergo All-on-X treatment to complete their smile.
Benefits of All-On-X Implants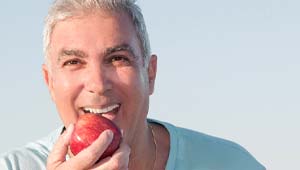 Like traditional dental implants, All-on-X offer many advantages over other replacement options, including the following:
Stronger jawbone and biting strength.
Longer lasting replacements.
More comfortable feel inside the mouth.
In addition to these and other benefits, All-on-X implants enable you to use your replacement teeth without having to wait for the jawbone to surround the implant, a process called osseointegration. Rather, the implants are ready to use immediately, saving you significant time. This treatment also allows those who wouldn't be able to get normal implants to receive stable replacement teeth.
All-On-X VS. Traditional Implants
If you are in a position where you have the choice between All-on-X and traditional implants, you may be wondering which option is better for you. Often, All-on-X is preferred because of its convenience and fewer number of implants. However, sometimes the traditional path is more suitable. The truth is that you really won't know until you've met with Dr. Boyles. He can examine your mouth, take essential images of your oral cavity, and discuss your needs and goals with you. At that point, he can recommend the treatment that would best help you achieve a strong smile again.