TMJ Therapy – Midland, TX
Relieve Jaw Pain & Restore Your Function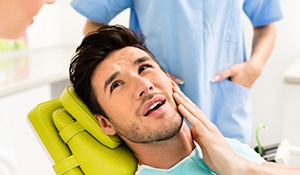 The temporomandibular joints (also known simply as the TMJ) are small body parts with a big name and responsibility – they're the bridge between a person's jaw and skull, essentially helping them perform functions like chewing food and speaking clearly. Unfortunately, these joints can be vulnerable to injury or strain over time, which makes regular jaw motion painfully difficult.
At Boyles General Dentistry & Implant Center, Dr. Boyles is very familiar with TMJ disorder and want to lend a helping hand. Effective TMJ therapy in Midland, TX is available to bring back harmony to your overall oral structures! Contact us today to get started with a first appointment.
Stress and TMJ Disorder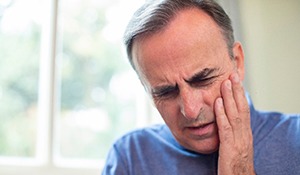 Although there are other causes behind TMJ disorder, stress is often a factor in starting or exacerbating teeth grinding or clenching at night. Since the COVID-19 pandemic, which has been stressful for nearly everyone, we've seen many more cases of cracked teeth, lost or cracked restorations, chipped teeth, headaches, and sore jaw. If you're experiencing more stress than usual, pay close attention to your other symptoms, because you could be at a higher risk of developing TMJ disorder.
How do you diagnose TMJ?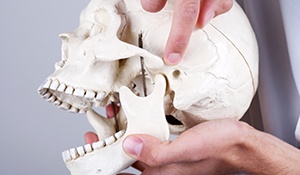 TMJ disorder is a complex condition that can spring from several different sources and causes. For instance, some patients may experience it because of an incorrect bite, while other cases develop gradually because of the presence of bruxism (habitual teeth grinding). However, there are some consistent symptoms that patients should be aware of, including:
Constant jaw pain
Regular headaches that feel like migraines
Popping and clicking noises when the jaw is in motion
Feelings of dizziness or vertigo
Discomfort that feels like tinnitus (ringing in the ears)
Experiencing difficulty with fully opening the mouth and/or chewing
If you suspect that you're a victim of TMJ disorder, let us know as soon as possible. Dr. Boyles will perform a thorough evaluation of the joints in order to diagnose the severity of your condition and determine the therapy option that will most likely lead to success.
Equilibration / Occlusal Adjustments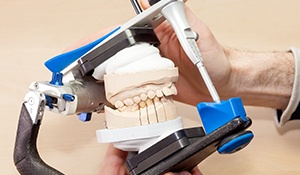 If your particular case of TMJ disorder is caused by a misaligned bite, occlusal adjustment (also known as equilibration) may be the right method for relieving discomfort. One of our doctors will review your resting bite, determine the areas that are enduring excessive pressure, and carefully adjust the surfaces of certain teeth to restore harmony. This process may require new dental crowns, fillings, or other restorative options to ensure optimal results.
Occlusal Splints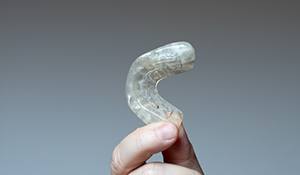 One of the most effective methods for bringing back health to the TMJ is a custom-made occlusal splint. Also known as a nightguard, this appliance offers patients multiple benefits. For instance, if patient's TMJ disorder is caused by bruxism, the splint can be worn as they sleep in order to prevent unconscious clenching and grinding. Additionally, the consistent use of the splint will help to reposition the jaw into a more comfortable position. Many patients even achieve permanent improvements!