Dentures - Midland, TX
Practical Solutions for Multiple Missing Teeth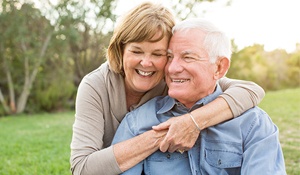 Do you find yourself struggling to chew the healthy foods you would normally eat? Do you often hide your teeth when you're talking to someone? Do you avoid smiling? If you are missing multiple teeth, these are the challenges you may be facing on a daily basis and it can become frustrating. Have you ever considered dentures in Midland, TX for replacing your teeth?
What is a Denture?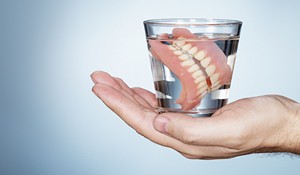 A denture is an appliance made of acrylic that is designed to replace an entire arch of missing teeth. Dentures are removable and rely on suction to your jawbone and a tight fit to stay in place, and some patients experience movement as they get used to eating and talking with their new appliance. For this reason, your denture may need to be relined periodically to ensure a snug fit.
You might be thinking of the unsightly or ill-fitting denture that your grandparents wore; however, today's dentures are much different. The shape, shade, and fit of your denture are all highly customized to your unique and specific needs so you denture not only provides a secure fit but is also aesthetically pleasing.
Maintaining Your Dentures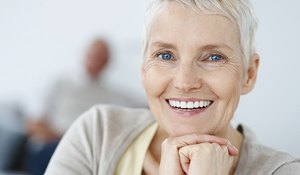 Dentures are easily removed for cleaning at night and should be brushed gently with a non-abrasive toothpaste. You can also soak them overnight in a cleaning solution or leave them in a cup of water since they need to stay moist to maintain their shape. Handle your dentures with care and be sure to schedule yearly checkups with your team at Boyles General Dentistry & Implant Center to ensure a proper fit.
Other Types of Dentures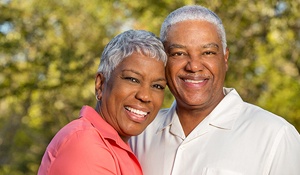 For patients who still retain a large number of healthy teeth, a partial denture allows them to maintain their teeth while filling in the open spaces with prosthetic teeth, similar to a puzzle piece. A partial is also removable and uses clasps to anchor to healthy teeth. It is a good option for restoring both function and aesthetics to your smile.
An implant-retained denture is for those patients replacing all of their teeth that are looking for a stable and secure fit. This option also works well for patients who are currently living with a denture that doesn't fit properly.
With implant dentures, a few dental implants are placed into your jawbone and your denture is designed to fit into them. This type of denture provides a secure fit that doesn't allow for any movement or slippage. Implants also offer the added bonus of protecting your jawbone from the deterioration that occurs over time due to the pressure that traditional removable dentures place on it.
Would you like to learn more about dentures and determine if they are the right option for you? Are you currently living with ill-fitting dentures? Contact Boyles General Dentistry & Implant Center to learn more about how we can help.
Understanding the Cost of Dentures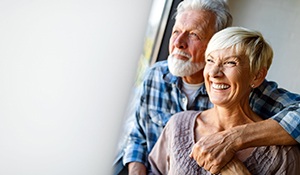 At Boyles General Dentistry, we know your restored smile needs to be durable as well as beautiful. That's why we encourage avoiding cheaper quality acrylic in favor of dentures that will last longer and feel more comfortable. Regardless of your needs, we'll provide a solution that not only enables you to enjoy all the benefits of having a full smile again but also fits within your budget. With us, you'll never have to compromise on quality!
Factors that Affect the Cost of Dentures
Not two dentures are exactly the same because each patient is unique. To calculate the price of your dentures, we consider many factors, including the number of teeth that need to be replaced. For instance, a full denture will cost more than a partial denture. In addition, if you require other treatment, such as tooth extraction or gum disease therapy, before receiving your dentures, keep in mind that these procedures incur their own separate cost.
Are Implant Dentures More Expensive?
Implant dentures differ from traditional dentures in that they attach to the jawbone directly rather than rely on suction for stability. This process requires a complex placement procedure, which we can perform in-house, adding to the cost of treatment. As a result, implant dentures are typically more costly than normal dentures. However, when you take into account all the benefits implant dentures have to offer, the extra investment becomes well worth it.
Does Dental Insurance Cover Dentures?
It's difficult to pinpoint a specific percentage of what insurance will pay for dentures because plans can vary. However, the vast majority of dental insurance benefits do cover at least part of the cost of dentures. Before we get started creating your custom dentures, we will look at your plan closely and let you know how much you'll owe out-of-pocket. Our team has years of expertise in working with insurance, and we'll try to find ways to help you save as much as possible.
Other Options for Making Dentures Affordable
If you don't have dental insurance, we provide an alternative that could still help you avoid paying the full amount on your own. Our in-house dental plan enables you to get discounts on basically all restorative work for a reasonable annual fee. With or without insurance, if you still cannot afford to pay the out-of-pocket cost all at once, a third-party financier may be able to offer easier monthly payments. CareCredit, Alphaeon Credit, and GreenSky are all trusted companies we work with, and we can guide you through the application process.
Frequently Asked Questions – Dentures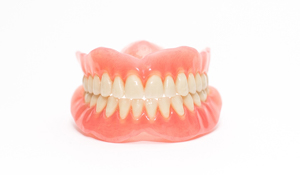 As you consider your options for replacing your missing teeth, you probably have questions about dentures. We want to guide you to the right treatment choice for you, so we've provided answers to some common inquiries. If you have other questions about dentures, don't hesitate to contact our team. We'll be happy to discuss your replacements and which option can best meet your needs.
Will I be able to speak and eat normally with my dentures?
When you have dentures, you have to get used to a slightly different way of speaking and eating. For example, your biting and chewing power with dentures is less than your natural teeth, so you may need to adapt your eating habits. Although the natural suction of the denture keeps it in place, it can still slip out of position if you're not careful. It can take time to adjust to your new dentures, so be patient with yourself. Also, after a few years, the dentures may require alterations to continue to fit properly.
Are dentures the best option for replacing missing teeth?
Although dentures tend to be a popular choice because of the cost effectiveness, they are not usually the first replacement option recommended. Rather, we usually prefer to replace teeth with dental implants because the implant posts integrate with the jaw bone, making the artificial teeth essentially just as strong and functional as natural ones. Using just four to six implants, we can hold a full denture in place, giving your replacement teeth much more stability. Plus, with implants, your dentures can last for multiple decades without needing to be adjusted or replaced. To learn more about dental implants, contact us for an appointment.
Can dentures be repaired?
Dentures can be repaired to an extent. Every few years, your traditional dentures may need to be slightly altered to continue fitting properly as your jaw bone loses density and shape. Usually around the seven-year mark, sooner if it takes significant damage, you will likely need to replace your dentures entirely.
What is the process of getting dentures?
Getting dentures is simple. Basically, we will collect an impression of your mouth and send it to a dental lab. There, a technician will craft your unique, personalized dentures. Once they are finished, you'll come back to our dental office, and we'll ensure the perfect fit by making any necessary minor tweaks. As mentioned before, it could take a little bit of time for you to get used to the feel of dentures at first, but they should feel comfortable.