Dental Crowns – Midland, TX
Strong, Beautiful Restorations for Individual Teeth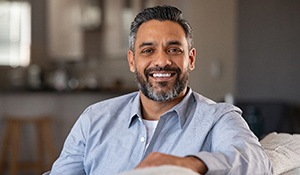 If you have a badly harmed tooth, you may fear that extraction is your only option. However, your tooth may be saved with a dental crown in Midland. Our team does everything possible to rescue individual teeth through this restoration, bringing back each tooth's appearance and function all at once. Could a dental crown help your smile? Make an appointment with us to learn how we can rebuild your teeth.
What is a Dental Crown?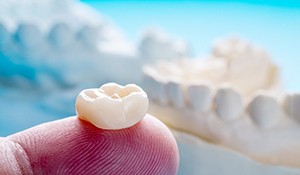 A dental crown, sometimes referred to as a cap, is a hollow dental prosthetic that covers the entire visible part of the tooth above the gums. This structure enables the crown to:
Compensate for damaged or decayed structure.
Cover a tooth that has undergone root canal treatment.
Hold a slightly fractured tooth together.
Correct small or misshapen teeth.
Restore a dental implant.
Attach a dental bridge to the abutment teeth or those that are on either side of a missing tooth.
The Dental Crown Process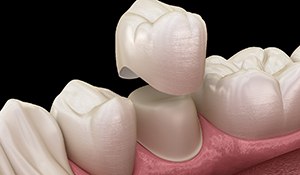 As with many other treatments, getting a dental crown usually begins with numbing your mouth. Then, we'll prepare the tooth by taking a small portion of the outside enamel off, performing root canal therapy, or removing any damaged structure. Once the tooth is ready, we will take impressions of your entire mouth and send this information to the dental lab for fabrication. Meanwhile, you'll wear a temporary crown over the tooth for its protection. When your custom crown is complete, you'll come back to have it securely bonded and tweaked to feel comfortable in your bite.
The Benefits of Getting a Dental Crown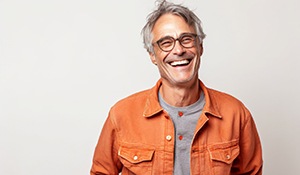 When it comes to a dental crown, you can enjoy many benefits, especially preserving your natural tooth in many cases. Instead of losing it entirely, a dental crown shields the underlying, in-tact structure and enables you to continue using the tooth.
Other benefits include the following:
Crowns are most often made of realistic materials that look natural.
Crowns are durable, allowing you to use your teeth to maintain a balanced diet.
Crowns typically last about 10 years but can go up to 15 years with proper care.
Crowns require the same maintenance as real teeth—daily brushing, flossing, and regular dental checkups.