Dental Bridges – Midland, TX
Fill the Gap in a Row of Teeth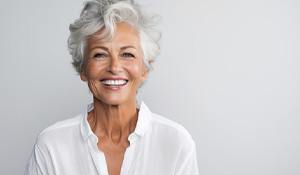 When it comes to tooth replacement, there isn't a one-size-fits-all solution. At Boyles General Dentistry & Implant Center, we customize available treatments to fit your needs and complete your smile. Dental bridges are a great example of how we personalize restorations to meet your replacement needs. To fill in the gaps in your smile, ask us about dental bridges in Midland at your consultation. Schedule it now !
What is a Dental Bridge?
From appearances, a dental bridge looks like a row of crowns attached to each other. The middle tooth is whole, filling in the gap of the missing tooth, and the crowns on each end are hollow to be fitted over neighboring teeth or implants.
In order to qualify for this type of restoration, there must be either an implant or a healthy tooth on both sides of the gap.
Types of Dental Bridges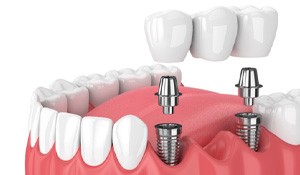 Depending on your situation, we can explore multiple bridge options. Although there are two types of dental bridges available, they differ only in what type of structure the prosthetic teeth are attached to. In both cases, the prosthetic uses these structures to secure and complete the row of teeth.
Traditional Dental Bridge
When a traditional dental bridge is placed, the anchor teeth must be slightly reduced to make space for the restoration. This type of restoration also can only be used on one to three missing teeth in a row.
Implant Bridge
When a bridge attaches to two implants instead of two healthy teeth, up to five total consecutive missing teeth can be replaced! Implants are surgically inserted into the jawbone, where new growth envelops them, just like real tooth roots. This gives your replacement teeth much more stability and strength. Plus, it doesn't require altering perfectly healthy teeth.
The Benefits of Getting a Dental Bridge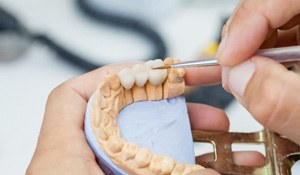 In some situations, a patient may think they don't have to replace a missing tooth, particularly if it isn't easily visible. However, having a substantial gap in your row of teeth allows the others to shift to compensate for the lost one. As a result, your bite can change, potentially leading to additional tooth loss. A lifelike, metal-free bridge maintains your teeth's proper alignment and enables you to complete your smile's appearance.
In addition, a dental bridge typically lasts between 10 to 15 years with simple, regular maintenance, which consists of daily brushing and flossing and routine checkups and cleanings at our Midland office.