Sedation Dentistry – Midland, TX
Experience Complete Relaxtion at the Dental Office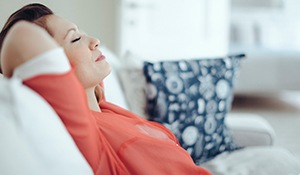 It's estimated that up to 75% of adults here in the United States struggle with some degree of dental-related fear, whether it's mild in nature or cripplingly severe. At Boyles General Dentistry & Implant Center, your comfort is always our top priority. Our dentists offer multiple options for sedation dentistry in Midland, TX that can create a genuinely relaxing atmosphere for even the most nervous patients, allowing necessary dental treatment to proceed smoothly and safely. If you would like to learn more or schedule a first appointment here in Midland, TX, contact us today.
Oral Conscious Sedation Dentistry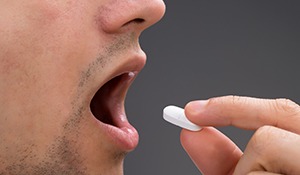 If your feelings of dental anxiety and/or phobia are significant in nature, oral conscious sedation is a highly effective method for curbing them. The process is simple – our team will prescribe medication and also inform patients regarding when to take it before their procedure is set to begin. Once the effects begin, patients should feel deeply relaxed and at ease. While you will technically be awake enough to interact with our team and respond to requests, it's more than likely that any memories of the experience will be gone once you recover.
Because of this oral sedative technique's strong effects, we do require that patients have a friend or family member drive them to and from the dental office.
Nitrous Oxide Dental Sedation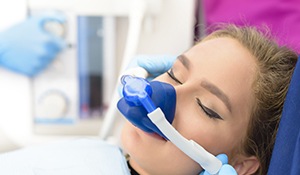 Nitrous oxide (also known as "laughing gas") is a safe sedative option that best fits patients who experience only mild dental-related discomfort or those who have overly sensitive teeth/gag reflexes. Once you're settled in the treatment chair, our team will cover your nose with a nasal mask and start administering the nitrous oxide. As you breathe in the gas (mixed with oxygen, of course), you should start to feel lighter and happier.
One of the biggest benefits of nitrous oxide is that the effects wear off just as quickly as they begin – within minutes. That means patients can get back to their busy routines right away and even drive themselves home without trouble.
Frequently Asked Questions about Sedation Dentistry
If the thought of visiting the dentist fills you with anxiety, or if you are worried that you'll feel uncomfortable, we're happy to talk with you about sedation dentistry. You may have some questions about your options or what you can expect, which is why we've answered some common questions below. Feel free to contact our team if you have others—after all, we want you to feel at ease before and during your appointment.
Do I Need to Prepare before My Appointment?
For nitrous oxide, you do not need to do anything before coming to our office. Once you arrive, we can place the nasal mask on your face so that you can quickly begin to relax. If you are using oral conscious sedation, you will need to fill a prescription and take the pill according to our instructions. The effects will likely have already set in by the time you get to our office, so please arrange to have someone bring you to our office and take you home afterward.
Is Sleep Dentistry the Same as Sedation Dentistry?
Sometimes people use these two terms interchangeably, but the solutions we offer here at Boyles General Dentistry & Implant Center will not put you to sleep. You will remain conscious and responsive during the entire appointment; however, with oral conscious sedation, you will likely not remember details from your time with us, and you will not be able to drive yourself home.
Am I a Good Candidate for Sedation Dentistry?
Sedation dentistry is beneficial for more than just anxious patients. It can also be a good option for those who:
Are undergoing multiple or complex procedures.
Haven't seen a dentist for a long time and likely have cavities, gum disease, or other issues to resolve.
Have difficulty sitting in a chair due to back pain or other physical problems.
Have a sensitive gag reflex.
Experience tooth sensitivity at the dentist's office.
If you think that your experience could be more pleasant through the use of sedation dentistry, talk to us about it for your next appointment. We'll ask you questions that will lead to the solution for your unique situation.
Is Sedation Dentistry Safe for Children?
Yes! For patients of all ages, including children, we can use nitrous oxide as a safe sedative to provide comfortable treatment. This gentle option allows us to reduce your child's stress and help them feel warm, happy, and pain free. Especially if we are performing extensive procedures, having the added relaxation from nitrous oxide can help your child have a positive experience in the dentist's chair, increasing their chances of a lifetime of excellent oral health.