Implant Crown & Bridge – Midland, TX
Rebuild Your Smile with Dental Implants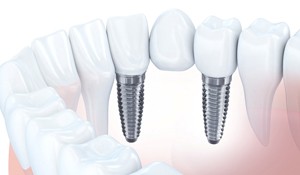 Every tooth is vital to your oral health and your ability to perform simple tasks throughout the day, like chewing your favorite foods or pronouncing certain sounds. When even one is missing, it creates changes to your quality of life. Not to mention, you likely lose a bit of your self-esteem as well. To replace one or more missing teeth in a row, a bridge and crowns are the traditional solutions. Although it is an effective treatment, many people prefer the security of dental implants. Now, you can enjoy the next best thing to your natural teeth using a solution that can last for a lifetime.
What is an Implant-Retained Bridge?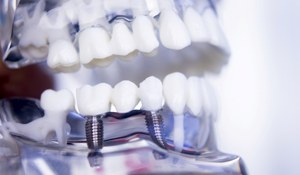 A traditional fixed bridge has been the go-to option to replace one to three consecutive missing teeth for years. An impression of your mouth is taken to create a bridge of prosthetic teeth. It is held in place by reshaping the adjacent teeth to bond dental crowns to them. Although this is effective, it requires you to permanently alter healthy teeth. Not to mention, it only lasts for a few years before needing to be replaced.
As an alternative to crowns, you can anchor your bridge using an implant post at either end. Dental implants not only secure your denture, but they also replace the roots of your missing teeth. This allows you to enjoy a solution that looks and feels natural.
What Can I Expect with Dental Implants?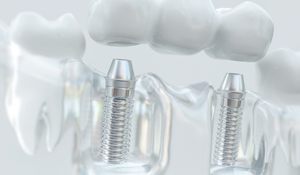 If you are ready to complete your smile with the next best thing to your real teeth, your first step is to schedule a consultation to ensure dental implants are right for you. Your dentist assesses your oral health and structures while also discussing your medical and lifestyle history. Digital x-rays and a CT scan are also taken to create a customized treatment plan.
While under sedation or anesthesia, a surgical procedure is used to place the implant posts into your jawbone. The posts stimulate your jaw to encourage new bone growth. Over the next several weeks, you go through a process called osseointegration, which allows your bone to fuse to the posts.
After your jaw has healed, you need a second minor surgery to attach abutments to the posts. The special fixtures are necessary to connect your custom-made restoration. Your new teeth are carefully crafted to match the appearance of your natural ones to blend in seamlessly when you smile.
Benefits of Dental Implants
Using dental implants to secure your bridge allows you to enjoy a variety of benefits, including:
Over a 95% success rate.
Looks and feels natural.
Does not alter healthy teeth.
Preserves your jawbone's density.
Stops dental drift.
Supports your facial structures.
Cost-effective.
Long-term solution.
Stop the Complications of Tooth Loss
When you lose even one tooth, your jawbone deteriorates because it is no longer stimulated by the root. This makes your remaining teeth lose support. Over time, this can lead to alignment issues and an increased risk of tooth decay, gum disease, and additional tooth loss. Dental implants are the only solution to stop these complications.
If you are ready to invest in a complete, beautiful smile, contact our office today to see if an implant-retained bridge is right for you.