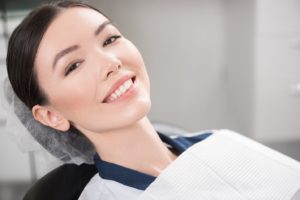 Does the thought of visiting the dentist make you a little nervous (or perhaps very nervous)? Millions of people across the United States struggle with dental anxiety, whether because they had a past bad experience or because they dislike the idea of a stranger working in their mouth. Dentists can do a lot to ease their patients' nerves with a friendly manner and gentle touch, but that isn't always enough. That is why many practices offer sedation dentistry. At Boyles General Dentistry and Implant Center, we are qualified to provide both nitrous oxide and oral conscious sedation. Let's talk about how these sedation options can help you breeze through your next appointment.
Nitrous Oxide
Nitrous oxide is commonly known as "laughing gas" because of the calm, sometimes giddy, feeling that it produces. When you breathe it in through a nasal mask, it immediately helps you feel relaxed. It is extremely safe; it is approved even for use in children. In addition to being appropriate for calming mild dental anxiety, nitrous oxide is also helpful to patients who need help to control a strong gag reflex.
One of the best things about nitrous oxide is that its effects wear off quickly, almost as soon as the mask is taken away. Therefore, you'll be back to feeling like yourself in no time. You'll even be able to drive yourself home for your appointment.
Oral Conscious Sedation
If your dental team decides that oral conscious sedation is a fit for you, you'll be prescribed a powerful medication. You'll take the pill shortly before your appointment begins (so you'll need to have someone else drive you to your appointment). The drugs used in oral conscious sedation calm the parts of the brain that produce fear and anxiety. Therefore, even though you'll be alert throughout the appointment to respond to your dentist's directions and questions, you should not be uncomfortable or afraid. After the sedation wears off, many patients do not even remember what occurred during their procedure.
It might take up to 24 hours after you take the oral conscious sedation drug for its effects to wear off completely. During that time, you should not drive or drink alcohol.
Talk to Your Dentist About Sedation
Your dentist wants you to feel comfortable and confident about your treatment, which is why you should never hold back from discussing your concerns with them. If you suffer from anxiety, have a strong gag reflex, or find it difficult to sit still for an extended period of time, ask whether sedation dentistry is right for you. Hopefully, you will be able to take advantage of this valuable provision and enjoy a positive, relaxing experience the next time you need to undergo a dental procedure.
About the Dentists
Drs. Franklin and Stephen Boyles are proud to work alongside Dr. Ken Etheredge to provide comprehensive dental services to the Midland community. Together, the three of them have roughly 80 years of combined experience. If you would like to learn how our doctors can help you relax during your next appointment via the use of sedation dentistry, or you have other questions about our practice, contact us at 432-685-7011.