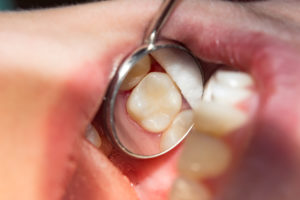 One night, you while you eat your dinner, you find yourself saying, "My tooth feels loose." When you were little, losing teeth filled you with excitement. After all, that meant the Tooth Fairy was coming! But, as an adult, you're well past the age of growing in new teeth. The ones you have are supposed to last for the rest of your life, so having a loose permanent tooth can justifiably worry you. In this post, you'll learn more about why adult teeth can feel loose and how you can prevent and treat it.
Reasons for Loose Teeth
A permanent tooth can become loose as a result of the following:
Gum Disease
Did you know that gum disease is the most common cause of tooth loss in adults? Also called periodontal disease, this condition entails inflammation-causing bacteria in plaque that infect the gums and eventually the supporting jaw bone. Without healthy gums and jaw bone to hold teeth in place, they can become unsteady.
Pregnancy
While a woman is pregnant, her estrogen and progesterone levels become elevated, and these hormones can affect the bones and ligaments that stabilize teeth. However, these effects go away after pregnancy has ended. Keep in mind that pregnancy can make you more susceptible to gum disease as well, so it's important to stay current with your dental visits.
Trauma
Although your teeth are the strongest material in your body, they are not indestructible. A hard, direct impact to the mouth can damage teeth and the structures around them. Also, if you clench or grind your teeth, even while you sleep, this habit can cause stress for the supporting tissues.
Preventing Loose Teeth
Although some situations may be outside of your control, in most cases, you can prevent your teeth from becoming loose. For example, daily brushing and flossing can keep harmful plaque from building up between teeth and around the gumline. In addition, you need to regularly visit your dentist for checkups and cleanings. If you grind or clench your teeth at night, you also can wear a custom mouthguard that alleviates the tightness in your jaw.
Treating Loose Teeth
Depending on the cause of your loose teeth, your emergency dentist can offer several treatment or helpful options. In the case of gum disease, scaling and root planing can be performed to eradicate bacteria. Antibacterial mouthwashes can also help keep gum disease under control. If you've suffered bone or gum tissue loss, grafts can help reverse it and prevent further loss. For a tooth that can't be saved, you can take advantage of modern tooth replacements, such as a dental implant or bridge.
Ultimately, if you have a loose adult tooth, you should make an appointment with your dentist as soon as possible. They can diagnose the problem and provide the treatment you need to make sure that your permanent teeth last for the rest of your life.
About the Practice
At Boyles General Dentistry & Implant Center, three talented, highly trained dentists offer advanced oral care to Midland families. Although they are able to replace missing teeth with dental implants, they prefer helping patients save their natural teeth whenever possible. If you have questions about your loose teeth, you can contact Boyles General Dentistry & Implant Center by calling (432) 685-7011 or clicking here.