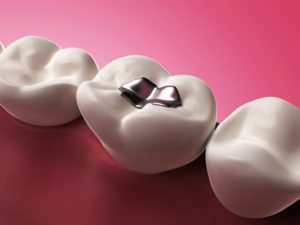 Cavities are never a welcome sight. When learning you have one and need it filled, it's likely that you have a few questions bouncing around in your head. If you're wondering what type of material will be used to fill it, you can rest a bit easier knowing that your dentist has moved away from traditional metal and instead, opts for a more smile-friendly solution. Find out why you need your tooth filled in the first place and why tooth-colored composite resin is better than metal.
The Anatomy of a Tooth
In order to comprehend how a cavity forms, it's important to first understand the anatomy of a tooth. First, it is composed of four dental tissues: enamel, dentin, cementum, and pulp. The first three are hard tissues and the pulp is the innermost layer that consists of nerves, blood vessels, and soft tissue.
When plaque, which is sticky bacteria, forms on your teeth as a result of consuming too much sugar, it begins to produce acids that breakdown tooth enamel. Over time, a cavity can form in the hard, outer layer of your tooth (enamel). The only way to fix this type of problem is to have your dentist fill it.
Fillings 101: Their Purpose
When tooth decay destroys a part of your tooth, it is necessary that the cavity is filled in order to prevent the spread of bacteria and decay. During the process of receiving a filling, your dentist will clean out the inside of the cavity and fill it with the appropriate material.
Fillings make it possible for your tooth to continue having full functionality. Even if your tooth was just cleaned, the hole would still be problematic. Fillings seal out bacteria and prevent further reinfection or damage.
Why Composite Resin is Better Than Metal
There is much debate over the use of metal versus composite resin. For decades, dentists have relied on the strength and effectiveness of traditional amalgam; however, with more and more research showing the damaging effects of metal, tooth-colored fillings are becoming much more popular and common in dentist offices across the country.
Regular metal might be less expensive, but they do not look natural, nor are they good for the environment. Composite resin, on the other hand, replicate the color of your teeth, allowing your dental work to blend in seamlessly with the rest of your smile. It's durable and can last up to 15 years with proper care and maintenance.
The resin is a paste that is matched to your natural tooth color. Placing it onto the cavity, your dentist will shape and mold it to lay flat and perfectly seal the tooth. A curing light is used to harden the resin into place.
Composite resin fillings are biocompatible, non-toxic, and much better for your oral and overall health. With this new knowledge, you can feel better about your upcoming treatment knowing your dentist has your well-being in mind.
About the Practice
At Boyles General Dentistry & Implant Center, our team of dental professionals believes in providing a superior approach to treatment. Need a filling? Instead of letting your dental work shine for all the world to see, we opt for tooth-colored composite resin fillings. Not only is it important that we improve the health of your smile, but we are mindful of what we put in your body, too, which is why we use metal-free dental restorations. To find out why we made the switch from traditional amalgam to a toxic-free, environmentally-friendly solution, visit our website or call (432) 685-7011.