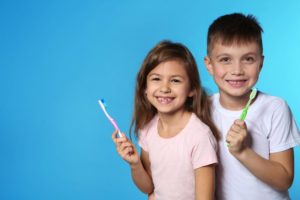 You've spent so much time in awe of your baby's gummy smile that when the first tooth erupts through the gums, you suddenly realize you need the right tools to start caring for this precious pearly white. But what do you need exactly? While a toothbrush and toothpaste sound like the right solution, how much do you use? How big should the brush head be? How often should you brush? Especially for new parents, the initial stages of taking care of your baby's teeth can be a bit daunting. To help ease your mind and put you and your baby on the right path, find out when you should schedule their first appointment with a dentist who can answer all your questions and take care of their smile.
The First Visit: When Should it Be Scheduled?
It is recommended that you should schedule your child's first dental exam by the time they turn a year old or when the first tooth erupts. Generally, most parents tend to wait until their baby's first birthday, but the sooner you get them in, the better it will be in the long run.
The Initial Visit: What Should You Expect?
If your little one is still too young to fully understand what is happening, you may not have too much difficulty during your first visit, but that's not always the case. The sights and sounds of a dentist's office, as well as unfamiliar faces, can have your baby scrambling into your arms and hiding from anything they might believe to dangerous or scary; however, this initial visit can help to curb those emotions and instead, create a friendly, welcoming, and enjoyable experience for you and your child.
During this visit, your child's dentist will start by getting to know your child a bit better. After discussing any health concerns or problems, they will perform a brief exam, looking at your baby's gums and teeth to ensure everything is developing properly. If a tooth has already erupted, a quick brushing will occur before discussing how best to care for your child's oral health at home. From using the right tools (i.e. silicone finger brush or a training toothbrush with a small brush head) to understanding how much toothpaste to use (i.e. the size of a grain of rice), your dentist will provide necessary instructions to make sure their teeth remain healthy between appointments.
The Early Stage of Oral Health: Why Is It Important for Young Teeth?
You may be tempted to tell yourself, "It's not that important for my child to see a dentist this early. After all, their baby teeth will eventually fall out." The reality is that while yes, permanent teeth will take the place of your child's primary ones, the condition of their baby teeth can determine how healthy and how well these adult teeth come in.
Young teeth are prone to cavities because of a child's inability to effectively brush their teeth and reach the crevices that can trap bacteria and food particles. If left untreated, it can result in severe decay and additional dental problems as they age.
As your child grows older, it will be important to talk to their dentist about additional ways to protect their teeth. Dental sealants and fluoride treatments are just two ways you can prevent tooth decay and strengthen tooth enamel.
By taking the appropriate steps while they are young, you will be setting them up for a lifetime of good oral health. While not all problems are preventable, ensuring they see their dentist twice a year and maintain good oral hygiene at home are the most effective ways to achieve healthy teeth and gums.
About the Author
Dr. Stephen Boyles graduated from Texas A&M University Baylor College of Dentistry in May 2016 before joining his father, Dr. Franklin Boyles, in his practice at Boyles General Dentistry in June 2016. As a family-operated practice, Dr. Stephen and his father combine their unique talents to provide patients of all ages safe and effective dental care. Understanding that the dentist's office can be a scary place, especially for little ones, the staff works hard to ensure everyone feels welcome, comfortable, and at ease during their appointments. To learn more about Dr. Stephen, visit our website or call (432) 685-7011.