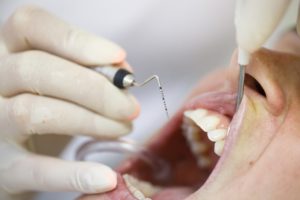 One night as you get ready for bed, you spit your toothpaste into the sink, and then you see it—your minty toothpaste looks pink. You take a closer look inside your mouth and notice that your gums are puffy and red. You may not have thought much about your gum health before, but now many questions rush to you. Is something wrong? What could have caused your gums to become swollen? Should you worry about it? Should you see your dentist in Midland? Well, read on to find out!
What Causes Swelling in Gums?
Just like other parts of the body swell when something is wrong, swollen gums can indicate an underlying problem. Gums can be swollen because of the following reasons.
Gum Disease
Did you know that gum disease is the leading cause of tooth loss? Nearly half of American adults have an advanced form of gum disease and are at risk. One of the most common first symptoms of gum disease is swollen gums, which also are often red and bleed easily. Early on, the condition can be treated and reversed with improved oral hygiene and regular visits to the dentist. However, more severe cases require more complex treatment.
Infection under the Gums
If the swelling is localized to a specific area of your mouth, it could indicate a tooth infection. Sometimes when decay has reached the pulp or center of the tooth, the infection can easily spread to the tooth's roots. A collection of pus can start to form at the root, which causes the gums to appear swollen. A dental X-ray can show whether there is an infection below the gums that's connected to a nearby tooth, and your dentist can perform a root canal to get rid of it.
Damage to Gum Tissue
Healthy gum tissue is pretty firm, but harsh treatment or an injury can damage it. Make sure that you're brushing and flossing gently around the gumline. Don't snap floss against the gum tissue. An impact to the mouth can also cause small cuts or irritation. In many of these cases, the swelling should subside fairly quickly.
When Should I See a Dentist?
Has it been a while since your last dental checkup and cleaning? You need to regularly attend these appointments to prevent oral issues from progressing and from even starting in the first place.
If you notice that your gums are consistently swollen, you should see your dentist as soon as possible to make sure that your smile doesn't have a more serious condition like gum disease or deep tooth decay. Here are some other symptoms to watch out for:
"Pink in the sink," i.e., bleeding gums when you brush your teeth.
Receding gums.
A fever.
Dental pain.
Ignoring your gums could lead to devastating damage to your smile in the long term. Although swollen gums can seem like a small symptom, they can often point to oral issues that need professional attention and treatment. With your dentist's help, your gums can continue to support your teeth and a healthy smile.
About the Practice
Boyles General Dentistry & Implant Center has three experienced, highly trained dentists on staff. Although they each have expertise in handling dental implants and other complex treatments, they encourage preventing problems and treating them as early on as possible. If you have questions about gum disease, root canals, or other oral issues, you can contact them by calling (432) 685-7011 or clicking here.