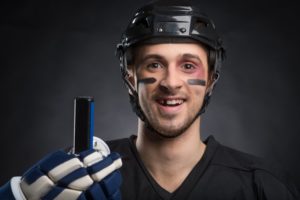 Most dental emergencies occur as a result of sports-related injuries. Whether it is a fast-moving game of hockey that results in a puck to the mouth or a hard-hitting tackle that causes you to pick your tooth up off the ground, knocked-out teeth are a common occurrence. But what can do you about it? Should you just throw away the tooth and move on, or should you call your dentist and ask for help? To prevent your smile from deteriorating over time, take a few minutes to read why time is of the essence when this type of injury occurs and what can be done to replace the missing tooth.
When a Tooth is Knocked Out: Steps to Take
The moment you feel your tooth dislodge from your mouth, the clock starts ticking. In a situation like this, the first step should be to call your emergency dentist. Next, retrieve the tooth by its crown and rinse it off to clear any debris. If possible, try to reinsert it back into its socket. If this proves unsuccessful, you can do one of two things:
Place it in a container of milk
Place it between your cheek and gums
Either will help to keep it moist while you make your way to the dentist's office.
When Saving Isn't an Option: Why Replace It?
When a tooth is knocked out, you have about an hour to get in and see your dentist if you want to try and save the tooth. By keeping it moist, this improves your chances of it being re-implanted. However, if for some reason the tooth cannot be saved, it will be necessary to discuss options for replacing it. But why?
Some of the reasons you will want to replace your missing tooth include:
Prevent bone resorption
Prevent facial changes from occurring (i.e. facial sagging or collapse)
Prevent natural, healthy teeth from shifting
Prevent upper teeth from growing longer to overcompensate for missing tooth
Decrease your risk for possible gum disease
What Are Dental Implants?
One of the viable and most popular options for tooth replacement is dental implants. These titanium posts are designed to restore the entire tooth structure from the root up. By surgically placing it into your jawbone, the implant will continue to stimulate the bone and keep it from weakening over time. Not to mention, they are completely natural in appearance due to the custom-made restoration (i.e. dental crown) that sits on top of the implant and blends in with the rest of your smile.
Why Dental Implants Are the Best
Not only do dental implants make it possible to have a fully restored smile, but they offer a wide range of benefits that cannot be achieved with other tooth replacement solutions. Some of these include:
A restoration that can last a lifetime with proper care and maintenance
No chance for decay since your crown is artificial
Greater stability and functionality when eating, chewing, and speaking
Improved oral health by eliminating the possibility of deteriorating bone
No one wants to lose a healthy, natural tooth, but should it happen, especially when playing sports, it's important that you know what to do in such a situation. Whether the tooth can be saved or not, you can trust that your emergency dentist has a solution that will give you back your beautiful smile.
About the Practice
At Boyles General Dentistry & Implant Center, our team of dental professionals believes in providing a superior approach to treatment. Need a tooth replaced? Our dentists can give you a longer-lasting, more stable and functional smile with dental implants. Whether you lost your tooth during a game of hockey or while riding your bike along a nature trail, we can restore your tooth from the root up, giving you greater confidence and a more aesthetically pleasing smile. To learn more about these unique restorations, visit our website or call (432) 685-7011.