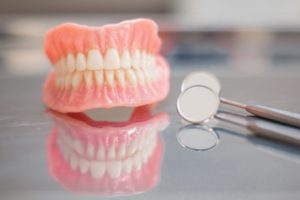 Do you hate the way your dentures feel? Are you tired of having a restoration that won't stay in place? Denture-wearers often find that after years of relining and readjusting their prosthetics, they prefer to have something more permanent and low maintenance. Fortunately, there is an alternative solution that offers a multitude of benefits, many of which cannot be obtained with other tooth replacement treatments. If you're ready to say goodbye to your dentures, spend some time learning more about implant-retained dentures and how they can improve your smile's appearance and oral health.
Why Do Patients Hate Their Dentures?
When agreeing to wear dentures, you must understand there are a few things you will need to adjust to:
Taking your teeth out at night to soak
Using a dental adhesive to help keep them in place
Remembering that relining and readjusting are normal parts of the process
Realizing your smile isn't permanent but is entirely removable
Even if you were fine with these in the beginning, it is likely that over time, you've grown tired of the constant struggles you face with dentures. But take comfort in knowing you're not the only one who likely feels this way. Many individuals who wear dentures often complain of the following:
They no longer fit properly. As you age, your facial shape begins to change. As a result, your dentures may no longer fit as they did initially, and you will need to have your dentures relined to ensure they are comfortable to wear.
They look fake. If your dentist uses a reputable dental laboratory to create your restoration, there should be no issue with the look of your dentures. However, if they do not appear to blend in naturally with your mouth or begin to look stained or faded, you may want to seek an alternative solution.
They irritate your gums. When dentures are ill-fitting, you'll be less likely to wear them, which can create a host of problems for your gums, bone, and facial structure. However, if you continue to wear poorly fitted dentures, they can begin to rub sores on your gums.
What Makes Implant-Retained Dentures a Better Alternative?
Spending much of your time and money on having your dentist reline, readjust, and even replace your dentures, you're probably ready to find an alternative solution that is void of all these unnecessary dental visits. The answer to your problems can be found in implant-retained dentures. This custom-made restoration is designed so that you can have a permanent smile that lasts for decades, requiring no adhesive or soaking at night.
Using titanium dental implants, your dentist will surgically place between 4 and 6  of them into your jawbone to create a stable foundation for your denture. Once your denture is made and customized to your liking, it will be secured into place.
Implant-retained dentures offer a superior level of treatment with benefits that are unmatched by more traditional methods, some of which include:
Greater stability
Improved, natural appearance
Boost in confidence
Maximum functionality when eating, speaking, and chewing
No chance of decay
Low maintenance
A restoration that will last decades or longer
Don't keep going through life unhappy with your smile. Talk to your dentist about the possibility of dental implants and replacing your ill-fitting dentures with a more stable, worthwhile solution – implant-retained dentures!
About the Practice
At Boyles General Dentistry & Implant Center, our team of dental professionals believes in providing a superior approach to treatment. Offering a wide array of services, we are pleased to provide dental implants to patients with missing teeth. These revolutionary restorations offer greater stability and functionality, making them a safe and effective alternative to traditional dentures. If you're ready to make the switch but want to learn more about dental implants, visit our website or call (432) 685-7011.