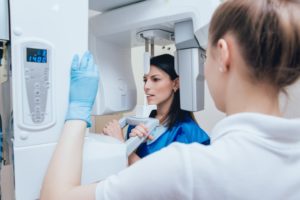 When you walk into your dentist's office, you are probably wondering how much of the equipment is used. This is no surprise, especially when your hygienist is asking you to accompany them to a particular machine for treatment purposes. When preparing for dental implant placement, your dentist may require that a cone beam scanner be used to capture images of your oral and facial structure, but what it is and why it is necessary? Read on to find out just how beneficial this piece of advanced technology can be when it comes to creating a treatment plan that includes dental implants.
What is a CT/Cone Beam Scanner?
A CT/Cone Beam Scanner is a great way for dentists to capture 3D images of a patient's entire oral and facial structure. Instead of relying on traditional x-rays, this piece of advanced dental technology makes it possible to create a model of a patient's smile, jaw, skull, and additional facial features within minutes.
How Is It Used with Dental Implants?
Typically, the CT/Cone Beam Scanner is used when preparing for a procedure. Since dental implant placement requires surgery in order to effectively insert each post into the jawbone, the scanner creates a 3D model that is transferred onto a computer. There, your dentist can begin to move and adjust as needed to determine the most stable areas of the jaw that will serve as a solid foundation for implants when placed.
By mapping this out through a computer system, the dentist can have a more accurate and precise location for each implant, making the process easier for both the dental professional and patient.
What Are Its Benefits?
Dental technology advancements have made it possible for dentists throughout the world to offer patients a more reliable way to complete procedures and reduce recovery times. Thanks to the CT/Cone Beam Scanner, it:
Produces high-quality, high-resolution images that allow the dentist to view the facial structure at different angles, helping to formulate a more complete treatment plan.
Captures bone and soft tissues more easily than traditional dental X-rays.
Emits less radiation than a traditional CT scan.
Takes only seconds to perform a full-mouth scan and is completely painless.
Makes it easier for the dentist to locate maxillary sinuses and determine the appropriate length of the implant before placement.
Allows the dentist to select the correct size of the implant to ensure the most secure and stable foundation as well as reduce the risk of possible nerve damage.
If your dentist is committed to providing only the best in dental technology, this should be a good sign that they are dedicated not only to the practice but to their patients, too. It is advancements such as the CT/Cone Beam Scanner that make the dental implant process easier and more reliable for individuals looking to replace missing teeth.
About the Practice
At Boyles General Dentistry & Implant Center, our team of dental professionals uses the latest dental technology to ensure greater accuracy and precision when rebuilding a patient's smile. Using the cone beam scanner to help those in need of tooth replacement, we can better prepare for the implant procedure, giving you greater confidence and assurance in your decision to move forward with this type of restorative treatment. To learn more about this particular piece of technology and how it's best used to place dental implants, visit our website or call (432) 685-7011.