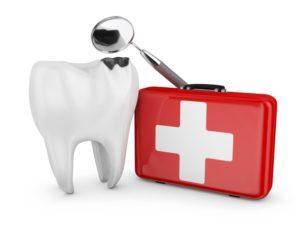 When you're in pain and need relief fast, your first reaction may tell you to go to the emergency room right away. In many situations, this resource can provide quick treatment for urgent injuries or conditions. But if you're experiencing severe tooth pain or another dental emergency, think twice before you head to the ER. Instead, you need to turn to someone who can perform triage on your smile. In other words, you need emergency dentistry! In this post, you'll learn reasons why you should contact your dentist in Midland for tooth-related emergencies instead of going to the ER.
Dental Qualifications
Even under normal circumstances, there is little that medical doctors can do for a dental emergency. Yes, they can take X-rays, MRIs or CT scans, but physicians do not know how to perform root canals, tooth extractions, or other dental procedures. They are simply not trained and equipped to treat infected or damaged teeth. At most, they can prescribe anti-biotics or pain relievers, but they are unable to address the cause of the problem, which means you'll still have to visit a dental professional afterward. Your dentist, however, has both the equipment and the advanced knowledge not only to diagnose dental issues but also treat them.
Overwhelmed Hospitals
Medical professionals, especially those in the hospital settings, are facing unprecedented numbers of patients because of this virus. Adding in the other typical emergency patients (such as those with broken bones, burns, and other illnesses or infections), these facilities are quickly becoming overwhelmed. Instead of clogging the system with problems that hospitals aren't even able to help, dental emergency patients need to go directly to the right source for assistance and correct treatment.
Risk of Infection
As diligently as hospital staff may try to prevent the spread of infections, these environments are often prime spaces to catch something from another patient. In contrast, your dentist's office is already set up with hygiene in mind. In addition to disposable personal protective equipment, your dental team has protocols in place to sterilize every tool, the chair, and other surfaces in between each patient to avoid cross contamination. Recently, they also have likely implemented extra safety measures, such as taking patients' and team members' temperatures every day, to prevent the spread of COVID-19. In all, visiting the dentist comes with much less risk than going to the very place where infected people are.
During these uncertain times, you shouldn't have to wonder where you can turn for help when you need it most. For medical emergencies, your doctor or ER physician can provide the treatment you need. In dental emergencies, your dentist should be the first person you call every time! By following these simple principles, you can get the right treatment quickly as well as better protect yourself and others.
About the Practice
Boyles General Dentistry & Implant Center is temporarily closed due to the COVID-19 crisis. However, our experienced dentists, Drs. Franklin Boyles, Stephen Boyles, and Ken Etheredge, are taking emergency patients as needed. If you have questions about dental emergencies, or if you have a dental emergency and need an appointment, don't hesitate to contact Boyles General Dentistry & Implant Center by clicking here.