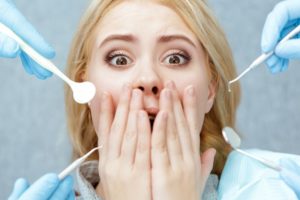 Although dental visits aren't your favorite activity, perhaps you can handle cleanings and checkups just fine. When the dentist says you need a tooth extracted, however, you immediately feel nervous, unsure, and even scared. But getting a tooth removed doesn't have to be a stressful ordeal. Here are four ways to lessen your fear of tooth extractions and feel more comfortable.
Get Informed
Much of your fear of tooth extractions may actually be the result of not knowing much about the process. When you take the time to learn more about it, you can put some of your anxiety to rest.
For instance, although tooth removal sounds complex, it is actually a fairly routine, simple procedure. Before anything else, you will be numbed with a local anesthetic, meaning you shouldn't feel discomfort. If the tooth has already erupted from the gums, your dentist will then gently rock the tooth back and forth with pliers until it comes out of the jawbone. Teeth beneath the gumline require a small incision.
Prior to your extraction date, be sure to ask your dentist any questions you may have. They can help you know exactly what to expect and feel more confident about the procedure.
Ask for Sedation
Although the local anesthetic goes a long way to ensure your comfort, some dentists provide another layer of reassurance through sedation. While nitrous oxide is inhaled throughout the procedure and quickly creates a warm, calm feeling, oral conscious sedation is taken in advance and often has an amnesiac effect. Depending on your needs, your dentist can customize your sedation plan so that you are completely relaxed throughout the process.
Follow Instructions
Especially if you're worried about complications or discomfort, it is imperative that you obey your dentist's post-op instructions. Specifically, you'll need to take a day or two to rest from your usual activities. This also means allowing a blood clot to form on the site, as well as no using a straw, no spitting out, and no using tobacco products for at least 48 hours afterward. You should also eat predominantly soft foods for several days before resuming a normal diet. Following these instructions can help you heal more smoothly.
Be Patient
During the procedure, you shouldn't experience any pain; however, when the anesthetic wears off a few hours later, you may have some discomfort. But don't worry! In addition to over-the-counter medication, applying a cold compress can typically reduce pain and swelling. Over time, you should start to feel more normal, but be sure to contact your dentist if the pain intensifies, instead of subsides.
Ultimately, a tooth extraction doesn't have to scare you. When you stick to these tips, you'll be better prepared for your tooth extraction and able to handle the aftermath with less stress and uncertainty.
About the Practice
At Boyles General Dentistry & Implant Center, our three experienced dentists are dedicated to making every dental experience as enjoyable as possible. We offer oral sedation as well as nitrous oxide for patients who struggle with anxiety about procedures. If you need a tooth extraction and would like to take advantage of sedation, contact Boyles General Dentistry & Implant Center through our website or by calling 432-685-7011.