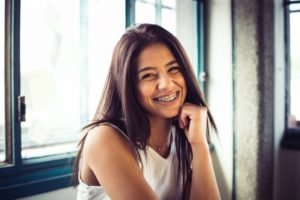 If you've been a patient at Boyles General Dentistry & Implant Center for a while, you probably have noticed that we don't often send our patients to specialists. We take cases ranging from dental emergencies to oral surgical procedures. As much as possible, we want to be your one-stop shop for your smile. But there is an exception—we do refer our patients in need of orthodontic care to Phillips Orthodontics. Here is a little bit of information about them and why we trust them with our valued patients.
Why We Refer Orthodontic Patients
At Boyles General Dentistry & Implant Center, we pride ourselves in being able to handle almost all your dental needs in one convenient location. We've gained years of advanced training in certain complex procedures, including dental implants. Although we are experts in many areas of dentistry, we acknowledge that there are a few procedures in the field that other professionals can handle with more expertise. When it comes to straightening smiles, we want our patients to receive the best possible care, which is why we sometimes refer patients to Phillips Orthodontics.
About Phillips Orthodontics
For the team at Phillips Orthodontics, caring for patients involves more than just realigning teeth. They strive to build lasting relationships based on trust and take the time to educate patients about their orthodontic needs. By working with and following the instructions given by this orthodontic practice, you can have results that last a lifetime! Plus, like our practice, they create a welcoming, friendly environment for everyone, making visits there as pleasant as possible.
About Dr. Phillips
You can't talk about Phillips Orthodontics without also talking about Dr. Phillips himself! As a Permian Basin native, Dr. Phillips completed his dental schooling and an orthodontic residency at The University of Texas Health Science Center at San Antonio. Since then, he has earned the status of Diplomate with the American Board of Orthodontics. He is also a member of the American Association of Orthodontists, American Dental Association, Texas Dental Association, and Permian Basin Dental Society. He is happy to be in Midland to help his friends and neighbors achieve straight, healthy smiles.
Phillips Orthodontics Services
In addition to traditional braces and other typical orthodontic treatments, Phillips Orthodontics also offers revolutionary procedures. One of these is clear braces. These brackets are, as the name implies, clear and blend in with your natural teeth. They also provide Invisalign treatment, which involves wearing clear plastic aligners. This treatment is barely noticeable and is often faster than traditional treatment.
In the end, our team wants what is best for you and your smile. In most cases, that means keeping you right here in our Midland office for treatment. When necessary, however, we feel confident sending you to an orthodontic specialist, so you're sure to love the results for years to come.
About the Practice
Boyles General Dentistry & Implant Center has three highly trained and skilled dentists on staff. With a combined experience of many decades, our dentists know how to manage and treat most dental needs in-house. If you would like to schedule an appointment with us, you can contact us via our website or phone at 432-685-7011.