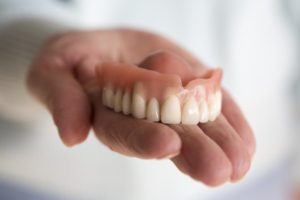 If you're thinking about getting dentures for the first time, you may be wondering how long the process takes. Unfortunately, the timing can vary greatly from patient to patient, and in some cases, a person can receive their dentures almost immediately. Typically, getting dentures takes a few weeks to a few months. The only way to know for sure in your specific situation is to meet with your dentist. During that consultation, they'll go through the process and let you know what timeline you can expect. In the meantime, here is the general gist of getting dentures, so you have some background knowledge.
Preliminary Procedures
Before you go through the time, effort, and money to create new dentures, you may need to take care of other necessary dental work. For example, if you have gum disease or a tooth that should be extracted, these procedures need to be handled prior to starting the dentures process. If you wait to address these issues until afterward, your dentures would require adjustments to fit properly again or perhaps may not fit at all. Although these procedures take time, they may be necessary so that your new dentures work for as long as possible.
Impressions and Data Collection
After you have fully recovered from any preparatory work, you're ready to have impressions taken of your mouth. Years ago, getting impressions was a long and messy task. However, if your dentist has one, a digital scanner can be used instead. This small device is inserted into the mouth and quickly gathers the necessary data for the dental lab. The 3D images collected from this technology allows for your dentist to get this step completed in just a few minutes and greatly streamlines the fitting process. It also makes impressions much more comfortable for you as the patient!
Fabrication and Fittings
With all this information, the dental lab is then able to fabricate the dentures and sends the them to your dentist's office for a fitting. During this appointment, they make sure the teeth look natural with your facial structure. They also make note of minor adjustments that may be needed for a more comfortable fit. You may need to go in for several of these appointments depending on how successfully the lab alters the dentures.
In the end, although it may seem like receiving dentures requires a large time commitment, the wait is well worth it. By the time the process is over, you'll be glad you replaced your missing teeth with high-quality dentures. Your new teeth can enable you to eat more effectively and will restore your confidence in your smile.
About the Practice
Our team at Boyles General Dentistry & Implant Center consists of three experienced and highly skilled dentists. Each with a unique background, they share a passion for making a healthy smile attainable for all patients. In the process of providing dentures, we utilize the industry's most cutting-edge technology, including a digital impression system. To get a clear idea of how long your dentures would take, schedule a consultation with us through our website or by calling our office at 432-685-7011.