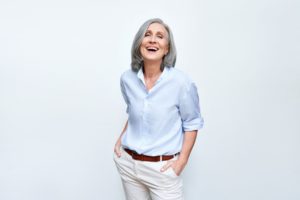 In the immediate aftermath of losing a molar to decay, you expected your smile to look funny and incomplete. However, when you see yourself in the mirror, you don't really notice a difference. After all, it was a back tooth, which is less visible. You start to wonder if you can get away with not replacing the tooth entirely.
Stop right there! You do not want to consider this train of thought! Tooth loss can have a greater impact on you than just your appearance right after it happens. In this post, you'll learn three reasons why you need to replace your missing back tooth, even though it's not seen as easily as other teeth.
Chewing Food
When you lose a tooth, especially a back molar, you lose the ability to do what teeth are designed to do: properly chew your food. Some of the most nutritious foods, such as spinach, broccoli, nuts, and more, require grinding from these back teeth before they enter your digestive system. Otherwise, you can suffer from stomach pain and other forms of gastrointestinal distress.
In many cases, when a person with a missing back tooth decides to leave it as is, they either try to chew with their front teeth, which are primarily intended for biting not chewing, or they simply eat other foods. Unfortunately, avoiding foods that are difficult to chew can lead to more processed, less nutritious choices.
Shifting Teeth
Did you know that when a tooth comes out the other teeth shift to compensate for the gap? They move to become more evenly spaced to prevent large bits of food from passing through unchewed. However, this change alters how your upper and lower teeth fit together, changing your bite. As a result, uneven pressure is placed on certain teeth, causing them to wear down faster than the others and potentially leading to additional tooth loss. Plus, when teeth move out of alignment, you can feel self-conscious about how your teeth look. In fact, you may wish to hide your smile or lose confidence to speak up when you need or want to.
Weakening Jawbone
Missing back teeth impact your smile in so many ways, including those you can't see on the surface. Strong tooth roots stimulate the jawbone, signaling to the body to continue sending nutrients and blood to the area. Without these roots, the body reabsorbs the bone tissue and restricts blood flow to that part of the mouth. As a result, the jawbone weakens and even deteriorates more and more with time. When this process occurs, additional tooth loss becomes more likely.
Although it may be tempting to do nothing about your lost back tooth, this choice is a big mistake! You need to replace any missing teeth you have, ideally with dental implants, to keep your smile complete and to avoid these unpleasant consequences.
About the Practice
At Boyles General Dentistry & Implant Center, we have a father-son duo of dentists who are dedicated to excellence in the field. With more than 40 years of clinical experience, Dr. Franklin Boyles has earned Mastership status with the Academy of General Dentistry and has replaced thousands of missing teeth. So far in his career, Dr. Stephen Boyles has achieved Fellowship status with the AGD. Although the practice specializes in dental implants, we also offer traditional dentures and bridges to replace lost teeth. If you are interested in tooth replacements, you can contact our Midland office by calling 432-685-7011 or clicking here.