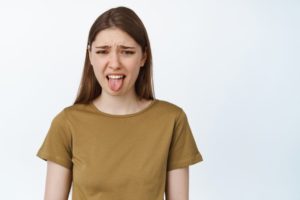 As you spit out from brushing your teeth, you expect to taste minty freshness, but instead your mouth tastes bitter, salty, maybe even metallic. Many questions can come to mind at this point. Is this something you should be worried about? What does a bitter taste in your mouth mean? In this post, you'll learn more about the causes and home remedies for this unpleasant symptom as well as signs that you should visit a professional.
What Causes a Bitter Taste in the Mouth?
It's easy to tell if your mouth doesn't taste quite right, but the challenge is determining the cause of it. Unfortunately, many causes (some serious, some not) lead to bitter taste, including the following:
Hormonal changes like those during pregnancy or menopause
Dry mouth
Smoking
Gingivitis or gum disease
Acid reflux
Stress
Certain medications like some antibiotics, vitamins containing metallic minerals, and some heart medications
Cold or flu
Cancer treatment
What Can You Do about a Bitter-Tasting Mouth?
In some cases, simply popping in a breath mint or piece of sugar-free gum is enough to fight off that bitter taste. However, you may need to first address the underlying cause in order to improve the taste in your mouth. Here are some things to try at home to get rid of it:
Stop smoking
Drink more water throughout the day
Brush and floss your teeth every day
Rinse your mouth with an antimicrobial mouthwash
Avoid eating greasy or spicy foods
Limit your sugar consumption
When Should You Talk to a Professional?
It is normal to experience some bitter or bad tastes, but it may turn into something concerning if it lasts a long time or is accompanied by other symptoms like bleeding or receding gums. It could point to something else going on. If the taste in your mouth continues to be bad even after you've brushed or affects your ability to taste food, you may want to meet with your dentist (as well as a medical professional) to talk about this potential dental emergency and your symptoms.
At minimum, you can discuss the bad taste in your mouth with your dentist at your next checkup and cleaning appointment; they can make sure your teeth and gums are healthy and protected from infection or decay. They can also recommend next steps if the cause is related to another issue.
Ultimately, your mouth may not always taste great, but you don't have to live with a bitter taste in your mouth either. Understand the underlying cause, and then do something about the issue! That way, you can focus on other experiences in life!
About the Practice
Boyles General Dentistry & Implant Center has the privilege of having two dentists on staff to serve patients in and around Midland. Both Dr. Franklin Boyles and Dr. Stephen Boyles are Fellows with the Academy of General Dentistry, a prestigious organization in the dental field. As a result, they are uniquely qualified to provide advanced care. If you have a persistent bad taste, you can schedule an appointment at Boyles General Dentistry & Implant Center online or by calling the office at 432-685-7011.