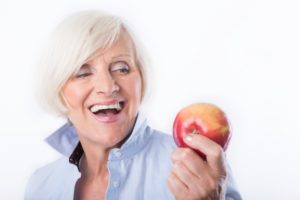 Change can be rough. It often involves adapting to new ways of doing things and requires time and patience as you transition. Getting used to eating with dentures can present a big change, but you can make this adjustment easier on yourself. Keep reading to learn how you'll need to modify how you eat for your new dentures to be successful.
Go Slow at First
When you first get your dentures, your gums may feel sensitive, especially at the beginning. To help ease them into a new normal, choose to eat softer foods like soup, yogurt, applesauce, oatmeal, or mashed potatoes. After about 7 to 14 days, you can start to introduce more solid foods like eggs, fish, pasta, and cooked vegetables.
With time, you can resume a normal diet; however, stay away from excessively chewy foods like caramel or peanut butter. Also, you may want to practice eating sandwiches or hamburgers at home, because these pose a challenge to new denture wearers and could lead to a mess the first couple of times.
Chew with Both Sides of Your Mouth
With natural teeth, most people tend to favor one side of the mouth for chewing food. However, if you try to eat the same way with dentures, this could lead to them dislodging on the other side. To avoid slippage, you need to separate your food into two equal parts and chew simultaneously on the left and right. This will help keep your denture in place.
Take Smaller Bites
Your new teeth aren't going to be as stable or strong as your natural teeth were. After all, dentures merely lie on top of the gums, whereas real teeth are grounded in the jawbone. To make it easier to eat, you'll need to cut your food into smaller pieces or take smaller bites. This reduces the work your dentures have to do before you swallow.
Drink Liquids as You Eat
If you do not already tend to drink water during meals or snacks, now is a good time to start. Not only can this habit help clear away bits of food and plaque from your mouth and prosthetic teeth, but it can help soften chewy foods like bread or pizza, making them easier to break down with your dentures. However, be careful when drinking hot beverages, such as coffee or tea, because dentures insulate gum tissue, which means you may not realize how hot something is until it's too late. To avoid having your gums become burned, take small sips of hot beverages or wait until it has sufficient time to cool enough for your mouth.
In the end, you will eventually get used to life with dentures. Try to be patient with yourself as you learn, and give it some time. If you are still having trouble after a while, you can talk to your dentist about other replacement options like dental implants. Before you know it, you'll feel like normal again and back to enjoying your favorites!
About the Practice
At Boyles General Dentistry & Implant Center, we offer many tooth replacement options, including dentures. Dr. Franklin Boyles and Dr. Stephen Boyles have proven their expertise by becoming Fellows with the Academy of General Dentistry and are happy to help patients in need find the right solution for their smile. You can contact Boyles General Dentistry & Implant Center via our website or by calling 432-685-7011.