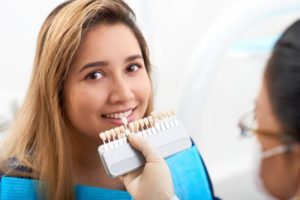 Do you hate the way your teeth look? Perhaps you've tried whitening your teeth professionally without success. Maybe you have chips or other flaws that you'd like to hide.
If you want to make changes to the way your smile looks, you can take advantage of veneers, which cover the front surface of your teeth, correcting their shape, color, and size. But if you're unfamiliar with veneers, you should know the basics before going to see your dentist about treatment. Here is more information about the types of veneers and the process of perfecting your smile.
Two Main Types of Veneers
Although other kinds of veneers exist, the most commonly used ones are made of porcelain or composite resin.
Porcelain
This type of veneer is the most popular because it closely resembles real tooth enamel. The ceramic finish reflects light like enamel, and it is also durable and stain resistant. This means that not only can you achieve the smile of your dreams but you can also keep it looking brilliant for much longer.
Although porcelain veneers tend to be more expensive than some other options, they can also last up to as much as 20 years with minimal upkeep.
Composite Resin
Composite veneers, which are sometimes referred to as direct or cosmetic bonding, consist of a dental plastic mixed with a ceramic material. Before getting cured, this putty-like material can be molded to reshape and cover teeth. This treatment can usually be completed in just one visit and is more cost effective for those on a tight budget.
However, composite veneers do not last as long as their porcelain counterparts. Typically, they need to be replaced about every 10 years. Plus, while composite can be shaded to match tooth enamel coloring, the sheen is slightly less realistic.
How Veneers Treatment Goes
With porcelain veneers, the process usually requires two appointments. The first is the consultation, where your dentist examines your mouth to make sure it is healthy. After you both determine that these veneers are the best option for you, they remove a slight amount of the front enamel. Then, they collect impressions of both arches of teeth. These impressions allow the dental lab to design your custom veneers and make sure they look completely natural. Once the dental lab is finished making your veneers, you go back to the dentist to have them affixed to the front of your teeth.
For composite veneers, the steps toward a more beautiful smile are simpler. Often, the entire process takes place in one appointment. No enamel is removed, which means this treatment isn't permanent. Basically, your dentist takes the tooth-colored putty material and applies it to the tooth, sculpting it into the desired shape. Then, a curing light is shined on the composite resin, which hardens into place.
Regardless of the veneer choice you make, you're sure to feel more confident in how your teeth look. But now you can go into your dentist's office with more information and make the decision that's right for your smile!
About the Practice
Boyles General Dentistry & Implant Center is honored to have two generations of dentists in the same family. Dr. Franklin Boyles has been practicing for about 40 years and is a member of many professional organizations including the Academy of General Dentistry (mastership status), the Texas Dental Association, and the West Texas Academy of General Dentistry. His son, Dr. Stephen Boyles, is also a member of these organizations. If you would like to learn more about veneers, you can schedule a consultation by contacting the office at 432-685-7011 or online here.