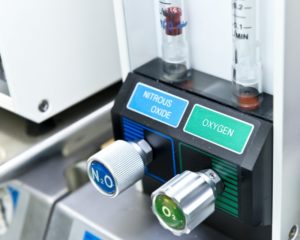 As a responsible adult, you are concerned about what goes into your body. Maybe you carefully watch what you eat or you stay away from tobacco or alcohol. So when your dentist suggests using nitrous oxide to make your appointment less stressful, you hesitate. Is it safe?
Absolutely! Nitrous oxide at your dentist's office is great for many patients who struggle with dental visits. If you're still worried about the risks involved, keep reading to learn more about nitrous oxide sedation and how it can help you feel more comfortable in the dentist's chair.
Risks of Nitrous Oxide
When used in an uncontrolled environment and for recreational use, nitrous oxide can be dangerous, primarily because the chemical compound in these settings does not contain enough oxygen. In fact, those who use nitrous oxide as a recreational drug can experience dizziness, disorientation and balance issues, impaired memory and cognition, and weakness in the legs. On the other hand, the kind of nitrous oxide used in dental practices is combined with plenty of oxygen, eliminating the dangerous effects while still providing a temporary more relaxed, content feeling.
About 10 percent of patients who take nitrous oxide may feel a little nauseated; however, the gas is non-allergenic, which means that pretty much anyone can take it safely. It is also non-habit forming, so you don't have to worry about becoming dependent or addicted to nitrous oxide—although you may become a fan of how easy and relaxing your visits can be!
Benefits of Nitrous Oxide
In addition to being safe to use in a dental office, nitrous oxide comes with many benefits. First and foremost, it helps those with dental anxiety feel calmer and more at ease. Unlike IV sedation or general anesthesia, you remain awake and able to respond to questions or instructions from the dental team. You are aware of your surroundings, but you are filled with a peaceful feeling.
Compared to other forms of dental sedation, nitrous oxide starts working fast. Usually within a couple of minutes, you can feel its effects, and it wears off just as quickly—almost as soon as the mask comes off.
This mild sedation option can also help if you must sit still for a long period of time or if you are undergoing multiple procedures. Also, it is gentle enough for kids and patients with special needs!
Although you should be selective about what you allow into your body, you can feel safe and confident about taking nitrous oxide sedation if you need it. Your dentist wants you to have a successful, stress-free experience to keep your smile healthy, and nitrous oxide is a great option to make your visits easier.
About the Practice
At Boyles General Dentistry & Implant Center, Dr. Franklin Boyles and Dr. Stephen Boyles strive to give patients a rewarding experience every time they visit. In addition to nitrous oxide sedation, we offer oral conscious sedation for more advanced cases of dental anxiety. If you would like to take advantage of sedation at your next dental appointment, contact our Midland office by calling 432-685-7011 or visit us online here.