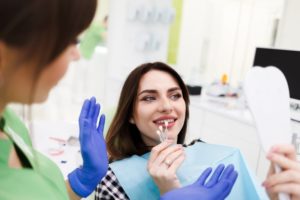 Life is full of decisions—what clothing to wear, where to go for lunch, what to do for date night with your partner. While some of these choices seem small or ultimately unimportant, it can be difficult to choose between two perfectly good options.
For improving the appearance of your smile with your dentist, you generally have two types of veneers you can pick from. But how will you decide which one is best? Here is some valuable information to help you choose!
Porcelain Veneers
This type of veneer is made from a ceramic shel that can be colored to match the surrounding teeth. It is fabricated in a lab, where details are crafted into the porcelain to make it look as realistic as possible. In total, the process usually takes just two appointments.
At first, the idea of using a ceramic material may seem like a bad idea. However, this porcelain is more durable than you think! It looks just like real enamel and even resists stains better. With minimal upkeep, these veneers can last for up to 20 years before needing to be replaced, while others don't last as long.
Composite Veneers
Otherwise known as cosmetic or direct bonding, composite veneers are made of a dental plastic mixed with ceramic particles. It starts out as a putty-like material that can be sculpted into the desired shape. After a curing light shines on it, it hardens quickly and blends seamlessly in with the other teeth.
This treatment typically only requires one visit to complete. Plus, although not as durable as porcelain, cosmetic bonding is less invasive. Porcelain veneers involve taking away some of the enamel from the front surface of your teeth, but composite veneers do not.
How to Decide Which Veneer Is Right for You
All types of veneers have distinct advantages and disadvantages, but you need to choose the one that will be most beneficial for you and your smile. The good news is that you don't have to consider your options alone. In fact, you must visit with your cosmetic dentist first. At that time, you can explain your goals and needs, and they can recommend the treatment that would best do the job after a thorough examination of your teeth.
Whether you opt to go with porcelain veneers over cosmetic bonding or vice versa, you can put your mind at ease with the knowledge that you and your dentist can work together to find the perfect solution for your smile. In the end, you'll have teeth you're proud to show off!
About the Practice
For about 40 years, Boyles General Dentistry & Implant Center has helped countless patients achieve their best smile through cosmetic procedures like porcelain veneers and cosmetic bonding. As Fellows in the Academy of General Dentistry, Dr. Franklin Boyles and Dr. Stephen Boyles are experienced with many treatments and can assist in determining which would meet your individual needs. If you would like to schedule appointment at our Midland office, you can click here or call us at 432-685-7011.