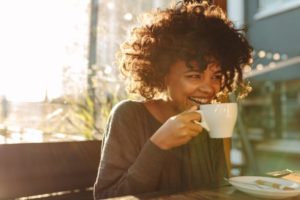 Everyone who knows you knows that your morning doesn't begin until you've had some coffee. As much as you love and need your coffee, you likely already know that it can stain your teeth. Although daily brushing and regular professional cleaning visits help, your teeth may still be discolored. In addition to other flaws, perhaps covering your yellow or dull-looking teeth is a main reason why you've decided to get porcelain veneers.
The good news is that veneers are more stain resistant than natural enamel, but can they hold up against your daily coffee? Keep reading to find out!
Stains and Veneers
With the naked eye and your touch, your teeth seem to be perfectly smooth and even, but microscopically they have tiny crevices and nooks. Highly pigmented particles from drinks (like coffee) or even foods (like tomato sauce, soy sauce, or berries) can become trapped in these surfaces, creating an overall darker color.
Unlike natural tooth enamel, veneers are not nearly as porous, which means they resist absorbing the color of the substances you eat and drink better than real teeth. However, veneers still can discolor over time, especially if they are not properly maintained.
With the right care, veneers can last for up to 20 years before needing to be replaced. That's two decades of a brilliantly white smile!
Ways to Keep Your Veneers Perfectly White
If you want to keep your veneers looking their best for as long as possible, at minimum you must do the following:
Brush your teeth for two full minutes at least twice every day.
Floss your teeth daily.
Visit your dentist at least every six months for checkups and professional cleanings.
On top of these requirements, you can retain your radiant smile by:
Reducing your consumption of pigmented substances.
Drinking more water throughout the day.
Drinking non-clear beverages (e.g., dark soda, iced coffee or tea) through a straw.
Rinsing your mouth with water after you eat or drink.
It's important to note that whitening toothpastes or other products do not work on veneers. The best approach is to prevent the stains from affecting your veneers in the first place.
You don't necessarily have to give up your morning coffee when you get veneers. Although it doesn't mean you will never have to worry about tooth stains ever again, veneers make it easier to hold onto the perfect, white results for a long time even if you enjoy having your cup of joe. With some slight adjustments to your routine, you can make your brilliant veneers last.
About the Practice
Boyles General Dentistry & Implant Center has been serving the Midland community for about 40 years. Dr. Franklin Boyles and his son, Dr. Stephen Boyles, are both Fellows with the Academy of General Dentistry, a distinction that few dentists achieve during their careers. As a result, they are uniquely qualified for many procedures like veneers. If you would like to meet with them to discuss getting veneers, you may contact our office at 432-685-7011 or by clicking here.