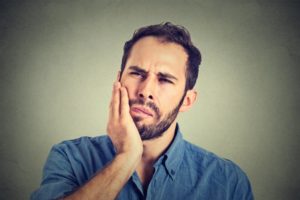 Ever since you got that dental implant, you have had so much more confidence in your smile. You don't worry about eating in front of others anymore—even hard or crunchy foods—until one time it suddenly feels loose when you bite down. Is this a serious problem? Do you need to call your dentist? Does this mean your implant is failing?
In this post, you'll learn why you should pay attention and do something about this symptom, what you should do in this situation, and how your dentist can correct it.
Why You Shouldn't Ignore a Loose Implant
Out of the reasons why your implant feels loose, none of them are particularly good news. In fact, most of the time, it indicates that something is wrong. If you don't address this concern with your dentist, you run the risk of potentially losing the implant entirely. The sooner you get your loose implant looked at and potentially treated, the better.
What to Do If Your Implant Feels Loose
Dental implants are widely known and famous for their stability, so if one feels loose, it can be quite worrisome. Follow the tips below if this happens to you:
First of all, don't panic. It doesn't necessarily mean that the implant is failing, but it will need immediate attention.
Avoid disturbing the implant by not biting or chewing with that area of your mouth, and do not fiddle with it with your fingers or tongue.
Contact your dentist for an emergency appointment.
Be honest with your dentist about your oral hygiene habits as well as the circumstances surrounding your implants feeling loose.
How Your Dentist Fixes a Loose Dental Implant
Your implant dentist is there to help you determine whether the implant is in trouble and what treatment can resolve the problem. If your implant is loose as a result of trauma, your dentist can restabilize the implant using a splint, which attaches to the surrounding teeth.
If your other teeth are loose as well as the implant as a result of an infection, most likely peri-implantitis, your dentist needs to get rid of the bacteria causing the issue. This usually entails a deep cleaning, where plaque is cleared out below the gumline. This therapy may need to be repeated every three or four months to get the infection under control.
In the end, your dental implant shouldn't be feeling loose, but if you come across this scenario, you can turn to your dentist for help. They can provide the guidance and procedures that can get your confident smile back on track.
About the Practice
For more than 40 years, Boyles General Dentistry & Implant Center has been offering advanced services like dental implant treatment to patients in the Midland area. Dr. Franklin Boyles and Dr. Stephen Boyles have decades of experience and training for handling basically all your care in one convenient office. If you feel your implants are becoming loose, contact our office and schedule an appointment with Dr. Boyles right away by visiting this page or calling us at 432-685-7011.