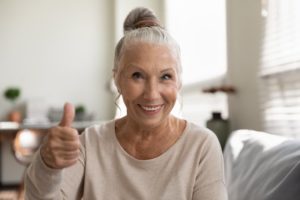 You get the senior discount. You're getting close to retirement. You listen to oldies music. In your mind, you're still as young as you ever were, but you realize just how old you are when you look around you and in the mirror. You wonder if you're too old for cosmetic work, if the figurative parade has passed you by. Your cosmetic dentist may not be able to turn back the clock completely, but they can help you feel confident in yourself again.
Never Too Old for a Confident Smile
No matter how high your age gets, you shouldn't ever outgrow loving to smile. Cosmetic dentistry can work for you at any age and can remind you that you're still young at heart.
Cosmetic Treatments Available to Aging Patients
If you would like to improve your smile, regardless of how old you are, your dentist offers many services that can accomplish your goals. Here are just a few of them.
Dentures and Implants
Although not every senior citizen has missing teeth, many do. If you have lost even one tooth, it can not only make eating much more difficult, but it can also affect your self-confidence. Addressing tooth loss with dentures or dental implants is a great way to bring back your smile's former strength and beauty.
Porcelain Veneers
You've experienced a lot in life, and your teeth can show it. Even if they are healthy, they may look worn down, faded, chipped, or cosmetically cracked. Veneers can cover these flaws in as little as two appointments with lifelike porcelain that can make you look decades younger.
Teeth Whitening
Over the years, you've probably had your fair share of staining foods and drinks. Coffee, wine, tomato sauce, and more can leave their mark in your teeth, making them appear dull or yellow. By removing these stains through powerful professional whitening, you can brighten your smile by as much as 10 shades. As a result, your teeth can help you not only be more confident but also seem younger.
Ultimately, you will get older, but you don't necessarily have to accept what time and nature do to your smile and self-assurance. No one is too old for cosmetic dentistry, and fortunately, a confident smile never goes out of style. Even if you're getting up there in age, you should consider working with a cosmetic dentist so you can let your smile shine without hesitation or embarrassment. In other words, you can become timeless!
About the Practice
Boyles General Dentistry & Implant Center has served the Midland community for more than 40 years. Dr. Franklin Boyles and Dr. Stephen Boyles not only share a name but also a strong drive to improve the lives of their patients through oral health and outstanding oral care. To schedule a cosmetic consultation, you may contact our office by calling 432-685-7011 or by going to our Contact Us page here.