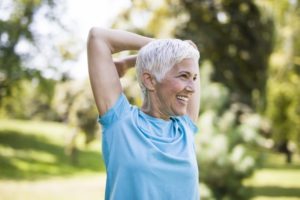 You know you should exercise more than you do. Being active has nearly limitless benefits for your health, especially for your heart, blood sugar levels, and metabolism. But did you know that your activity level could also impact your smile?
In this post, you'll learn about how exercise may prevent gum disease and how you can keep oral bacteria under control by being active and outside.
Exercise and Gum Disease
When you work out, you strengthen your muscles, increase flexibility, help regulate metabolism, and improve sleep. But the benefits don't end there—exercise seems to also strengthen your smile, even though you aren't "working out" your mouth. Studies have found that people who engage in physical activities regularly were between 30 and 50 percent less likely to develop gum disease.
How Exercise May Prevent Disease
Although the exact connection between activity and gum disease is not crystal clear, they are obviously related, either directly or indirectly, in some way. One possible explanation is that you may drink more water when you're active, which keeps the mouth properly hydrated and neutralizes oral acids. Another is that exercise helps the body regulate blood sugar levels, and that this control extends to the mouth. With limited sugars to feed on, oral bacteria doesn't thrive or cause an infection.
In addition, inflammatory proteins, which are associated with heart disease and other conditions as well as gum disease, are produced less when a person is active.
Finally, it could simply boil down to self-care. A person who exercises regularly and takes care of their body may care about their health in other ways by not overeating sugary foods or neglecting their oral hygiene, which are major risk factors for gum disease.
Vitamin D from the Sun
Unless you have a condition that requires you be inside, you may choose to exercise outside in the sun. Not only is it healthy to get fresh air, economical, and fun, but spending time out in the sun can also actually benefit your oral health. The sun's rays provide the best natural source of vitamin D that your body can easily absorb, and vitamin D is essential for controlling inflammation. In studies, those who had higher vitamin D levels were 20 percent less likely to have gum disease!
As a result, if you elect to work out in the great outdoors, you may doubly protect your smile from infection!
In the end, exercise alone isn't going to keep you from getting gum disease. Daily oral hygiene as well as regular dental visits play a vital role in determining oral health, but exercise seems to have a significant impact that shouldn't be ignored. If all the other benefits of being outside and being active aren't enough to get you moving, then consider doing it for your smile!
About the Practice
At Boyles General Dentistry & Implant Center, our team of highly trained dentists can replace teeth using state-of-the-art dental implants; however, we encourage patients to preserve their natural smiles as much as possible. We can resolve gum disease and offer advice for managing oral health at home. To prevent or treat gum disease, schedule an appointment at our Midland office by calling 432-685-7011 or clicking here.