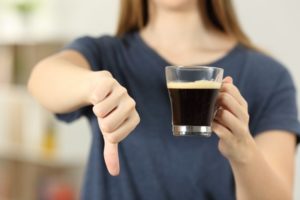 You've just come from the dentist's office after getting your teeth professionally whitened, and you can't stop smiling! You love how you look and want to hold onto this confidence forever. However, a few hours after treatment, you feel hungry. Certain foods and drinks can cause your teeth to become stained again, but what are they? What could you eat that won't taint your smile? Keep reading to learn what you should and shouldn't eat after teeth whitening and how to enjoy your white teeth in the long term.
What NOT to Eat or Drink After Teeth Whitening Treatment
If you want your brilliant smile to stay that way, you need to be careful about what you eat and drink, particularly in the immediate aftermath of treatment. If not, you may start to notice stains and discoloration returning sooner than you'd like! Here are some of the things you should avoid eating or drinking after getting your teeth whitened:
Coffee or dark tea
Red wine
Chocolate
Tomato sauce
Soy sauce
Dark soda
You may look at this list and think you can't live without these beverages and foods. You don't have to stay away from them entirely, but you should be aware that they can lead to faster staining. In the longer term, you can reduce discoloration by drinking water after consuming these substances to help rinse off your teeth.
What You CAN Eat or Drink After Teeth Whitening Treatment
Whether you just had your teeth whitened or not, there are plenty of foods and beverages that will not stain your teeth, including the following:
Apples
Strawberries
Milk (dairy or non-dairy)
Mashed potatoes
Cauliflower
Water
Basically, you can eat anything that isn't deeply pigmented, but these are some ideas of foods that are extra friendly for newly whitened teeth.
Keeping Your Teeth Bright
Your beautiful smile will be better preserved if you have excellent, healthy habits. Every day, you must brush and floss your teeth at least twice. You could consider doing it after meals or snacks to be even more thorough. You also need to stay current with your dental checkups and cleanings. Professional cleaning instruments can remove more stains than a regular toothbrush, and your dentist can recommend when it's time to revisit whitening again so you always have a radiant smile.
Although your diet does have an effect on the color of your teeth, you may not have to make drastic alterations after your teeth are whitened. Through smart choices in your lifestyle and avoiding overindulging in staining foods and drinks, you can continue to feel confident in your smile for as long as possible.
About the Practice
Our team at Boyles General Dentistry & Implant Center has improved the smiles of countless patients over the course of 40 years. As a Master and Fellow (respectively) of the Academy of General Dentistry, Dr. Franklin Boyles and Dr. Stephen Boyles have undergone advanced training in all areas of dentistry, including cosmetic treatments like teeth whitening. If you are interested in learning more about this treatment, you can call our Midland office at 432-685-7011 or visit our Contact Us page here.