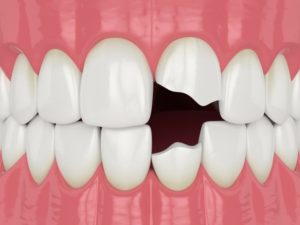 When you break a nail, it can definitely be annoying, but you quickly get over it because nails grow back. The same principle applies to your hair. Even if you mess up a haircut or have a bad hair day, it's not the end of the world. Just give it time, and it'll grow out.
But what if you chip a tooth? Can you simply wait for it to heal without having to see an emergency dentist? Keep reading to learn more about how to handle this situation!
Do Chipped Teeth Heal on Their Own?
The most straightforward answer to this question is no, chipped teeth do not naturally get better over time. Tooth enamel does not grow back; in other words, once tooth structure is broken off or lost, it is gone for good. Without professional treatment, your chipped tooth will stay that way or even get worse as time passes.
Is a Chipped Tooth Considered a Dental Emergency?
In most cases, you should consider a chipped tooth a dental emergency. Unfortunately, underneath the hard enamel is softer, more vulnerable dentin, which could become infected or damaged further. Plus, most people want to address a chipped tooth right away so that their smile doesn't have such a noticeable flaw.
How Chipped Teeth Are Treated
There are several possible treatments for chipped teeth. For minor chips, the lost enamel can either be replaced with composite resin, just like a filling, or be covered with a veneer. If the damage is more severe, a dental crown may be the best option to correct and restore the tooth.
Why You Should Treat a Chipped Tooth as Soon as Possible
From an aesthetic perspective, a chipped tooth can obviously impair the appearance of your smile, which on its own is reason enough to address the problem as soon as possible. But even if you aren't concerned about the cosmetic setbacks of a chipped tooth, it still isn't a good idea to put off correcting it.
A chipped tooth often has a sharp edge or point, which can cut the soft tissues of the mouth. In addition, an injured tooth cannot bite or chew as well as a whole one, affecting your ability to eat food. When you consider all the downsides of having a chipped tooth, it just makes sense to get treatment sooner rather than later.
Although different from breaking a nail, chipping a tooth is fairly easy to overcome—when you turn to a professional as early as possible. So if you experience this dental emergency, don't postpone treatment, and get your complete smile back!
About the Practice
Boyles General Dentistry & Implant Center has served the Midland community for nearly 40 years. Dr. Franklin Boyles and Dr. Stephen Boyles are active members of many professional organizations, including the Academy of General Dentistry, the Texas Dental Association, the Permian Basin Dental Society, and the West Texas Academy of General Dentistry. If you have a chipped tooth and need immediate treatment, you can contact our office online or call us at 432-685-7011.