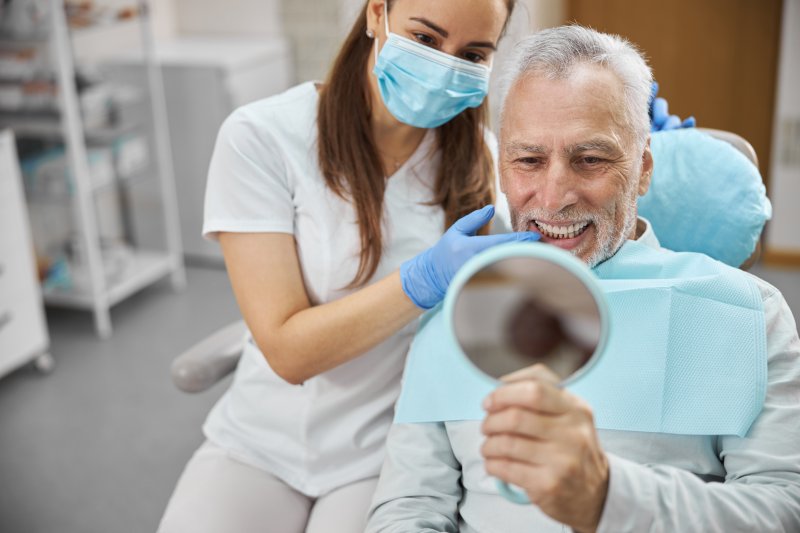 In terms of replacement teeth, dentures and bridges are pretty effective. After all, they fill the gaps in your smile and look quite natural! That said, these prosthetics don't stop the aged look that tooth loss causes. Only dental implants prevent and reverse this effect. If you'd like to learn how they do so, your Midland dentist is happy to explain. Here are four things implants do to help your face look vibrant and youthful.
Prevent More Tooth Loss
The gaps left by missing teeth are bad enough. However, those same spaces can lead to more tooth loss if left untreated.
The problem is, the spaces left by missing teeth cause the remaining adjacent teeth to weaken and tilt toward the gaps. You'll then look even older than before.
Thankfully, implants fill the gaps. They thus keep surrounding teeth stable, preventing tilts and helping you seem young.
Brighten Your Smile
No matter the oral care, your smile will darken over time. Teeth discolor with age and lose their brightness due to stains and lost enamel. Plus, things like brushing or dental visits can't reverse that process.
However, dental implants can brighten your smile. They're made of stain-resistant materials and come with white crowns. As a result, replacing stained teeth with them will instantly liven your face. In fact, just smiling with the restorations will give you a youthful appearance.
Reverse Wear & Tear
Of course, teeth don't just look old when stained. They can also seem that way due to wear and tear — chips, cracks, etc. It's also natural for smiles to wear out, as sugar and harsh chewing will take their toll.
To repair worn teeth, sometimes the best option is to replace them with implants. The restorations are pristine, and their durability ensures they don't weather much.
Avoid Facial Collapse
In truth, lacking teeth harms your jaw as well as your smile. Without them, the jawbone is likely to erode and hollow out.
You see, a jaw needs stimulation to preserve its bone tissue. When you lose teeth, that stimulus is reduced. This reduction then leads to bone loss near your now-empty jaw sockets. Left unchecked, the latter process will cause a facial collapse that causes your face to seem old and hollow.
Because implants fuse with your jaw, they fill the sockets and stimulate your jawbone. Consequently, they prevent bone loss and help your face stay full and vigorous.
You can trust implants to do more than restore your smile. Given the benefits above, you'll see that they give you a younger face too!
About the Practice
Boyles General Dentistry & Implant Center is based in Midland, TX. Led by Drs. Franklin and Steven Boyle, our practice takes a superior approach to dental care. In particular, we perform high-quality treatments that span preventive, cosmetic, and restorative dentistry. Our office also handles dental sedation and dental emergency services. For more information or to book a visit, you can reach us on our website or by phone at (972)-629-9339.