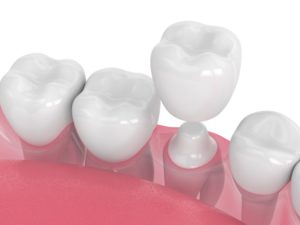 Perhaps you've always been cautious. Maybe you're not dazzled by the newest technology. You look quality in what you get to make sure you get the most out of your money—even in your dental care. As the name implies, same-day dental crowns are fabricated in one day. In fact, you don't even have to have a separate appointment! But is this in-office technology really worth the hype?
Before you agree to have this particular type of crown, there are some things you should know about it. For instance, if you are having multiple restorations made, it may be a better option to go the more traditional route. Read on to learn four other bits of information about same-day dental crowns to determine if they could be right for you.
Same-Day Dental Crowns Are Made of the Same Material as Traditional Crowns.
When you choose to receive a same-day crown, you aren't settling for an inferior product. In-office milling machines shape your crown out of porcelain, the exact material that dental labs use to fabricate your restoration. As a result, you can trust your same-day crowns to have many of the same characteristics you would expect from a lab-created crown: durability, natural appearance, and more! In fact, you'd be hard pressed to distinguish a lab restoration from one made in a lab.
Same-Day Dental Crowns Require Similar Maintenance as Traditional Crowns.
Although making your same-day crown entails using some of the industry's most advanced technology, caring for this restoration is actually quite simple. Every day, you need to brush your teeth twice and floss once to keep plaque from building up.
Regular visits with your dentist are also necessary to keep infection away. Although your crown will not be vulnerable to decay, the harmful bacteria in plaque can cause gum recession and get underneath the crown, damaging what remains of your natural tooth.
You Don't Have to Endure Putty Impressions with Same-Day Dental Crowns.
One of the most unpleasant parts of the dental experience is undergoing putty impressions. Many patients have to fight their gag reflex or dislike the flavor of the putty. But the process for same-day crowns is different! Instead of collecting impressions the traditional way, same-day crowns involve the use of digital scanning technology to accurately gather the data needed to create the crown within minutes. The instrument is placed comfortably inside the mouth and scans—that's it!
The Cost for Same-Day Crowns Is Basically the Same as Traditional Crowns.
Let's face it—a major concern for most patients is the cost of treatment. Fortunately, same-day crowns typically cost about the same as those made in a lab. This means you not only can save time by avoiding a second or even third appointment, but you can also pay the same amount as you would for a traditional crown!
Armed with this information, you can make the smart decision for your dental crown. Instead of leaving with a temporary crown and an appointment to return in a few weeks, you can walk out of your dentist's office with a complete smile and confidence that you've chosen wisely.
About the Practice
With three highly trained and skilled dentists on staff, Boyles General Dentistry & Implant Center is proud to have same-day technology available. Using a digital scanner and in-office milling machine, we can design and fabricate your custom crown efficiently, saving you time and money. To learn more about this technology and how we can improve your dental experience, you can contact us through our website or by calling 432-685-7011.