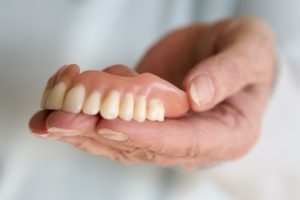 If you're a long-term denture-wearer, you've probably complained about your custom prosthetics many times. From rubbing sores on your gums to having them slip during an important dinner meeting, dentures may have come a long way since the wooden ones wore by George Washington, but they can still prove problematic. If you're tired of the battle, take some time to learn about dental implants and all of the benefits you will receive when you decide to make the switch.
What Are Some Common Complaints About Dentures?
Whether you've been wearing dentures for years or only a few months, it's likely that there are a few things about them that cause you to complain. This is not uncommon, as dentures are not meant to last forever; however, if you've had enough of the sores, poor fit, or what seems to be continuous relining, maybe you should consider an alternative solution.
After all, if any of the complaints listed below sound familiar or like something you've experienced, a more permanent solution might just be right for you:
Ill-fitting: This occurs for many reasons but the most frequent is that your facial shape (i.e. jaw, bone) changes over time, which leads to poorly fitted dentures. As a result, it is necessary to have your dentist reline them to provide a more comfortable fit.
Unnatural: Depending on the lab technicians who create your custom restoration, your dentures may look unnatural. This is extremely rare, but it can happen. If you're unhappy with the way your dentures look, make sure you discuss this with your dentist.
Irritation: Often the result of dentures that no longer fit correctly, your prosthetic can begin to rub sores on your gums. Not only will this create discomfort, but you'll be less likely to wear them because of the pain.
What Are Dental Implants?
Dental implants are small titanium posts that are surgically placed into the jawbone to restore the entire tooth structure. They come in three parts: the implant, abutment, and restoration. As one of the most versatile tooth replacement solutions available, dental implants can replace one, multiple, or all your teeth.
With an implant-retained denture, your dentist will place between 4 and 6 implants into your jawbone before sending you home to heal for 3-6 months. Once the implants are fully fused to the bone, you'll receive a customized implant-retained denture that will be secured on top of your implants.
Why Choose Implant-Retained Dentures Over Traditional Dentures?
If you're considering making the switch to implant dentures, it's important that you understand the benefits that will come with your new smile. While one of the biggest drawbacks is the upfront cost of dental implants, their advantages far outweigh those provided by traditional dentures. Some of the reasons you should move forward with dental implant placement include:
Stability: If you want a smile that stays in place and allows you to eat, speak, and chew without worry, dental implants are for you. Dentures can shift, slip, and even fall out if you're not careful, but implants are surgically placed and fuse to your bone, creating a stable, solid foundation.
Easy to Clean: Dentures require you to soak them at night, but dental implants require no extra tools or products. All you need is a toothbrush, toothpaste, dental floss, and mouthwash to keep them healthy. You cannot remove implants, so maintaining a normal oral hygiene routine is all you need.
Natural Aesthetics: Having a natural-looking smile is important no matter how old you are. Oftentimes, dentures can lack in this area, especially if they are not made correctly or fit improperly. Dental implants are created to blend in with the rest of your smile, not only looking but feeling completely natural.
Improved Oral Health: Your jawbone plays a pivotal role in how your face changes shape over the years. Dentures only sit on top of the gums, whereas, dental implants stimulate the jawbone because of their placement. This prevents the bone from deteriorating and causing facial sagging over time.
Go ahead and make the transition to dental implants. Talk to your dentist to find out if you are a qualified candidate for this type of procedure. If so, you'll be seeing (and enjoying) a healthier, new and improved smile in no time.
About the Practice
At Boyles General Dentistry & Implant Center, our team of dental professionals believes in providing a superior approach to treatment. Offering a wide array of services, we are pleased to provide dental implants to patients with missing teeth. These revolutionary restorations offer greater stability and functionality, making them a safe and effective alternative to traditional dentures. If you're ready to make the switch but want to learn more about dental implants, visit our website or call (432) 685-7011.