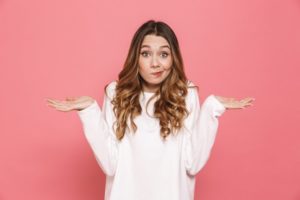 You've put up with your chipped and gapped teeth for long enough, and you want to get your smile and your confidence back. You do a bit of research on your own before talking with the dentist so that you are ready for your consultation. In your reading, you've found that the most likely options to correct your imperfect teeth are veneers or same-day dental crowns. They both sound good to you and could give you the results you want, but how can you decide which is right for you? Each choice has pros and cons, so read on to learn some reasons why you should seriously consider these treatments.
Reasons to Choose Veneers
Out of all the cosmetic treatments available in dentistry, veneers are among the most versatile. A small sheet of porcelain, which is made to appear just like enamel, is placed over the front of the tooth hiding flaws like chips, cosmetic cracks, discoloration, and more.
Veneers Are Less Invasive
While both treatments involve removing structure from the tooth, a veneer requires that enamel be removed from the front surface. On the other hand, to prepare a tooth for a crown, enamel is taken basically on all exposed surfaces. With veneers, you preserve more of your teeth's natural structure, which is usually the best way to go whenever possible.
Veneers Could Cost Less Overall
If you don't have dental insurance, crowns tend to be more expensive than veneers. After all, they completely surround teeth, whereas veneers cover just one side. Whether you're paying completely out-of-pocket or your dentist has an in-house plan, chances are that you could spend a little less by going with veneers.
Reasons to Choose Crowns
Also called caps, dental crowns are restorations that are attached on top of the natural tooth. A crown is fabricated to look just like the real thing and replaces the outside enamel. Although often used after cavities, root canals, or other restorative purposes, ceramic crowns can also be utilized to bring back a tooth's appearance.
Crowns Are Strong Enough for Molars
What if you want to improve the appearance of a back tooth? Veneers work just fine for front teeth, but molars experience quite a bit of stress from grinding and chewing food. As durable as veneers are, they could still be insufficient for these teeth, and dental crowns are more able to withstand the wear and tear put on molars.
Dental Insurance Covers Crowns
In general, dental insurance policies do not include coverage for cosmetic procedures, including teeth whitening and porcelain veneers. Most insurance applies to preventive and restorative services, meaning that it likely does cover crowns. As a result, your out-of-pocket costs for crowns could be less than it would be for veneers, saving you money!
Same-Day Crowns Are Convenient
Did you know that veneers can take weeks to fabricate in a dental lab? Same-day crowns, on the other hand, can be completed in as little as an hour, helping you save valuable time.
If you're feeling overwhelmed by this decision, don't despair. You don't have to do it alone; your dentist can evaluate your teeth and recommend the treatment that would best suit your situation. Plus, regardless of which option you choose, your dentist can make sure your smile looks completely natural and beautiful.
About the Practice
Boyles General Dentistry & Implant Center has served Midland patients for nearly 40 years. During their careers, both Dr. Franklin Boyles and his son, Dr. Stephen Boyles, have achieved Fellowship status with the Academy of General Dentistry, a prestigious accomplishment. In the practice, they offer high quality porcelain veneers as well as same-day crowns. If you have questions about these treatments, you can schedule a consultation with either Dr. Boyle by calling the practice at 432-685-7011 or clicking here.